AutoMZP Maker


AutoMZP Maker it's the perfect tool when you're in a hurry and just need to package your script.
Description:
AutoMZP Maker is a 3ds Max script made for creatives who want to focus on their scripts without wasting time building self-installing packages. It helps maintaining consistency across different scripts and versions, and makes the tedious export process faster.
It offers both a tool for making a complete .mzp package and one for encrypting .ms files only.
Main features:
Possibility of fast creating an MZP package or just encrypting Maxscipt files
Ability to choose whether to encrypt your scripts or leave them open-source
Automatic creation of script Macro with Name, Category and associated icons
Automatic renaming of all files to avoid misspellings
Compatible with any other additional files such as: icons, ini files, images, etc.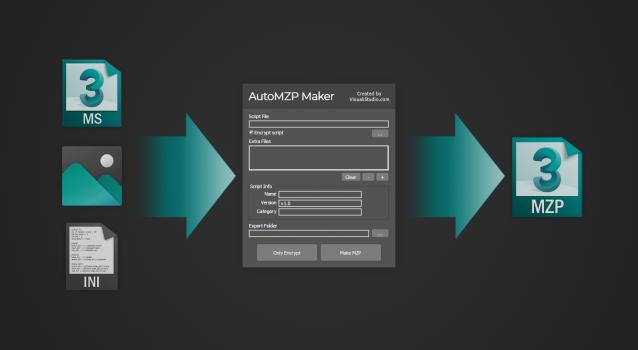 Additional Info:
To use it simply run AutoMZP_Maker from the icon, fill all the forms with your files and informations, then hit Make MZP.
Tested on 3ds Max: 2016 - 2018 - 2020
For bugs or issues report please contact us at the support email [email protected] and we will reply within 24h. Use the comments section below only for questions about the script's functionality.
Changelog:
Update 1.0.1 (4th Mar 2021)
Fixed error where script cannot open: "C:\temp\...ms"
Update 1.0 (5th Nov 2020)