FilePathFinder Pro & Light versions
Using the FilePathFinder you can be sure that you have complete control over external links into your scenes.

Asset tracking features include support for XREF files and easy linking with external files.
Using the FilePathFinder (and Batch Render&Relink), you can search for missing assets and relink external files.
In addition, files that are linked to selected objects are displayed in Interactive Mode, and bitmap textures can be toggled and placed within the Material Editor.
Also with this tool, you can easily make an archive a 3ds Max scene.
Note that FilePathFinder supports the highest number of asset types of any plug-in.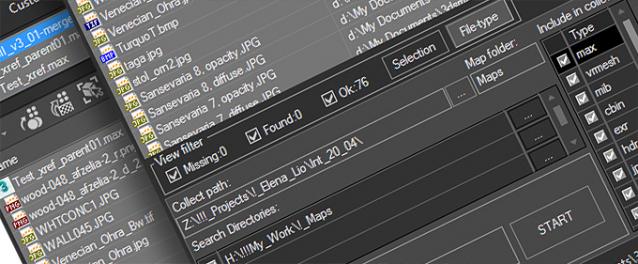 The Batch Render&Relink tool helps manage your asset files into the 3D model and material libraries in Batch Mode.
BR&R is capable of rendering thumbnails for 3D models, materials, and IES photometric files.
Batch Mode makes for an easy way to gather and compile many assets at once.
---
The new version of FilePathFinder is released with support to 3ds Max 2022
and many new features that simplify managing scene assets
Extremely speeds-up collection files on batch relink [Batch Render&Relink]
Fixes some minor issues with the Converting Images tool
Fixes a bug with opening the plugin on scenes that contained Anima objects
Fixes an issue with applying an activation key
Adds support to batch archive 3ds MAX files and Material libraries with assets [Batch Render&Relink]
Adds support to paths longer than 256 characters
Adds an ability to convert images to TX format [Convert Images tool]
Some optimizations and speed improvements
Fixes an issue with renaming links on xRef scenes using Advanced Asset Renamer
Fixes a bug on relinking and collecting assets
Fixes an issue with relinking paths longer than 256 characters
Fixes an issue with refreshing assets after relinking in version 4.00.26
Allows to setup desired view for studios without a camera [Batch Render&Relink]
Fixes an issue with relinking OSLMap
Fixes an issue with slow opening right-menu in some scenes
Fixes a bug setting path for links contained illegal characters
Adds support to 3ds Max 2022
Adds an ability to convert and resize images [PRO version]
Ability to mass-rename links ( menu Tools => Mass Rename Tool )
Batch Render&Relink [PRO version]
Adds the "Fast mode" for relinking 3ds Max files and material libraries in the batch mode
Adds an ability to Find & Replace part of paths in batch mode
Adds an ability to specify output filename on rendering previews for models
Setup multiple custom studios for rendering 3d models and material libraries
Adds an ability to specify pivot point on rendering preview for models
Adds a new BatchModes to 'Batch Render&Relink' API - #RelinkPreSave, #RelinkPostSave
See the full list of history changes on this page - Update History.
Features:
Asset Tracking
Search for missing assets
Relink external files
Collect external files
Archiving a 3ds Max scene
Ability to exclude files from collecting by type of file
Advanced Asset Renamer
Removing links from a scene
Ability to collect Asset files via clipboard and drag&drop method
PRO version includes the "Batch Render&Relink" tool for organizing Asset files for 3d Models and Materials Libraries in the batch mode
Support to xRef files
Batch Relink multiple files using "Fast Mode"
Support to almost all known renderers and plug-ins.
Selecting objects, work with materials and textures
Convert & Resize Images [PRO version]
Select objects by their links to files
Displays in interactive mode a list of files linked to selected objects
Place Materials and BitmapTextures into the Material Editor
Show/Hide bitmap in the viewport
Opening the files into the external application.
Misc Features
Auto-check for updates
Displays thumbnails for Bitmaps, 3d models, Proxy, IES, Material Libraries and other file-types (include formats HDR, EXR, PSD and others)
Various methods of display files in list: by type of files, linked to selected objects, by status, by mask of name
The "Batch Render&Relink" tool for rendering the thumbnails for 3ds Max scenes, Material Libraries and IES files
Collect the preview thumbnails with source files
Unostentatious and "Transparent" the demo-version
User-Friendly interface
Additional Info:
Commercial script.
Installation and generation of id-file video
Note: Please use the latest updates for your version of 3ds max
3ds Max Updates & Service Packs
Demo-version Limits:
The Demo version allows working only with a limited number of files.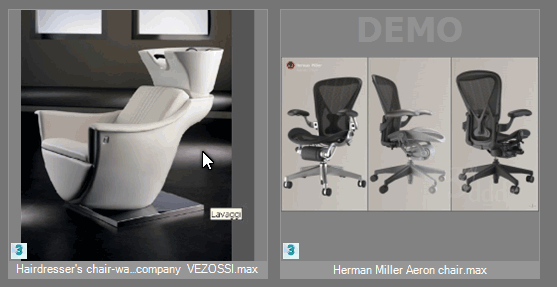 Version Requirement:
3ds Max 2014 and above