Replace Object and Bake Animation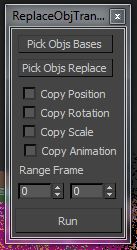 This is a script to Replace Transform object ( Position, Rotation and Scale ) and replace (baked) animation.
Sugestion is welcome...
Thanks,
For use "Run" the file in Max and Customize -> Customize User Interface… -> ToolBars -> Category: Kimarotta Scripts. Drag and Drop Script in Your ToolBar.
Version Requirement:
Tested in 3d max 2014