Smart Merge
A tool for quick import/merge of 3dsmax files, or downloaded archives from 3D Stocks or Asset Libraries site. You can quickly batch load these files into the current scene by simply drag and drop, and then selecting the max files to merge from the list. This convenient script will save you a lot of time, especially when you have to merge many files into your project.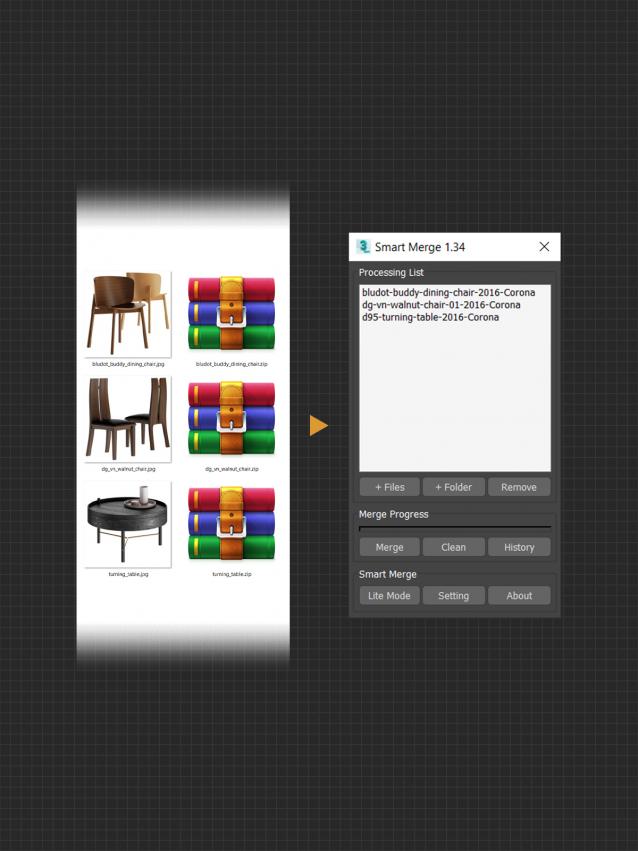 CHANGE LOG
1.34 | 29/11/2021
Replaced "Resolve Path with "Relink Texture": with new relink texture function, you will no longer have to save the current 3dsMax file to show the texture of the newly merged object.
Added progress bar in Lite Mode to show merge progress.
Added "Zoom Selected" option for "Selected Merged" in Setting: if "Zoom Selected" is checked, the script will zoom extents to newly merged objects after merge. It is useful when you are not using the "Move to Origin" option.
Added "Keep Subgroups" option for "Group Merged" in Setting : if "Keep Subgroups" is checked, the script will keep the subgroup structure of the merged file. If this option is not checked, the script will ungroup all objects merged file, then regroup everything a single group.
Added "Pivot to Center" in Setting with "Only Group Pivot": if "Pivot to Center" is checked, the script will put the pivots of all objects in the merged file to the center. If "Only Group Pivot" is checked, the script will put only group's pivot to the center.
Added "Model Purge Settings" button in Setting: click to open Model Purge Setting. All option of Model Purge will be moved here. Some options have also been renamed for the correct context.
Improve "Model Purge" function: faster and more accurate. Statistics are also counted more precisely.
New option "Remove Shapes", "Remove Helpers" and "Remove Warps" to purge all the extra shapes, helper and warps of the file to be merged. Existing shapes, helper and warps in the current scene will not be affected.
Added new "Animation Layers" and "Note Tracks" option in "Global Purge" group to purge all animation layers and note tracks after merge. Note that it applies to the entire current scene, so if your scene is very heavy, or you don't want to remove these elements, consider unchecking these options.
Added "Garbage Collection" and "Clear Undo Buffer" in "Other Settings" group.
Added "M" ("Manual) button for each option in "Model Purge Settings": if this button is enabled, the script will show confirmation prompt before starting to purge. It is very useful when you want to keep something in some certain files but don't want to disable the option in settings, for example to keep light only when merging the desk lamp model.
Fixed a bug that cause Lite Mode merge duplicate file. And now Lite Mode will no longer create file history.
Fixed an issue that prevented the progress bar from updating when right-clicking Remerge button.
Progress bar when re-merge will be updated more precisely.
Now you can press Esc to abort the file extraction process. Note that it can be a bit tricky, and you may have to press the Esc button more than once.
"OK" button in Script System Setting no longer close Smart Merge Settings when pressed.
Added & fixed some missing / incorrect grammar tooltips & label.
1.25 | 22/11/2021
Optimized script interface: all the buttons have been rearranged to match group names.
Renamed "Load" button into "+ File" button.
Renamed "Show Merged List" button into "History" button.
Added "Lite Mode" button. Click to switch to Lite Mode. Lite mode is a new function in script, when its interface will be minimized to only a tiny window for you to drag and drop files into. All buttons will be removed except for 1 button used to switch back to Full mode. In this mode, Quick Merge will be automatically activated, and it will merge all the files that are dragged and dropped into the script. The other options for merging files in the settings will still be applied in Lite mode as well. This mode is useful if you just want a quick merge without the script taking up too much space on the screen.
Added "+ Folder" button. Click to add folder to merge. The script will try to extract all files in that directory, and display all the MAX files it finds.
Optimized setting interface: setting is arranged and rearranged to be neater and more relevant.
Added "Script System Settings" button in "Other Setting" group. Click to open Smart Merge System Settings.
Added "Deep Extract" option: in previous version, the MAX file must be placed in the main directory or subfolders when extracting. If the MAX files are placed in another archive (double compressed), or missing .max extension, the script will not load them. But with 1.25, this will be completely fixed. With "Deep Extract" on, you can put the max file, texutre, or any other file in as many sub archives. The script will try to decompress all of them until there are no more compressed files left.
Re-integrate the "Overwrite" option: "Overwrite" was a built-in feature from the early versions, but in version 1.16 was temporarily removed after adding Winrar to the default extractor. Now this feature has been integrated back and is compatible with both extractors.
Added "Model Purge" option: when enabled, this feature will purge and clean the junk in the max file that is merged into the current scene. By default, the feature will be turned off, but you can turn it on in Settings by checking the Enable Purge box. If "Show statistics" is enabled, after the cleanup, the script will report what was cleaned up. This feature is very useful if you are merging files from unknown sources and are not sure that they are completely clean. Currently, scripts can purge Particle View, Animation Key, Light, Camera, Layer, and Note Track.
Added "Model Optimize" option: currently it has 2 options, "Move to Origin" and "Resolve Path". Move to Origin will place the merged models at the origin of the current scene, or in other words 0, 0, 0. "Resolve path" will set the absolute link for the textures when merging. Note that this feature is still in development and testing stages. Currently, it will try to resolve all the paths present in the current scene, so you need to be careful when using it.
Added "After Merge" option in Script System Settings: in previous version, when you press the merge button a max file, all max files in the same archive will also be moved to Merged List. However, like the Remove button, you can now set it to either move the merged Max file to the Merged list alone or move the entire archive to the Merged list.
Fixed a bug that cause "undefined" errors when starting the script for the first time.
Fixed a bug that prevented the script from using "Quick Merge".
Added & fixed some missing tooltips.
1.16 | 08/11/2021
Remove "Reload" button in Merged List, replace with "Open" button (old "Open" button in "Smart Merge" group).
Replace "Open" button in "Smart Merge" group with "Clean" button: click to delete all temporary data of the script, including all extracted files in both Processing List and Merged List.
From now on you can right-click the "Merge" button to merge all the files in the list. It works the same way with the "Remerge" buttons in the Merged List.
Similarly "Merge" button, you can right-click the "Remove" button to delete the entire file list.
You can now import the MAX file directly into the script, and it will work like a normal batch merge script.
New file filter: it will automatically filter out valid files when use drag and drop function.
New "Extractor Settings" group: from now on you can change the default extractor 7-Zip built into the script to WinRAR. With WinRAR, you will be able to extract more file formats, beyond the basic 7-Zip compression formats. Note that WinRAR is not included in the script installer, so you need to install WinRAR on your computer before switching to this extractor. The script will ask you for the path to WinRAR.exe if necessary.
Fix errors related to Windows Administrator rights and User Account Control that prevent scripts from using the Merge feature, or make Drag and Drop function unusable.
Improve Merge function: new merge method for faster speed. You may notice a significant speed increase when merging many large files.
Added "Quick Merge" option and "Group Merged" option in "Merge Settings" group: "Quick Merge" will cause the merge function execute immediately after you drag and drop the file into the script. You can tell by the background color of the processing list, it will change from White Smoke to Dark Gray if switch to "Quick Merge" mode. "Group Merged" will group each MAX file individually after being merged so you can easily select each one.
Added "Remove Settings" group: you can customize how the Remove button works here. You can choose to delete the MAX file individually, or delete the entire archive containing the MAX file.
Added "Sticky Dialog" option: enable it to Stick the setting dialog to the script's main interface while moving across the screen.
Added "Save", "Load", "Reset" setting: save current setting, load setting from file, and reset everything to their default values.
Fixed some tooltips bug.
1.04 | 02/11/2021
Renamed "3dsMax File List" group to "Processing List".
Added "Merge Progress" group and move the progress bar here.
Added "Show Merged List" button: click to show "Merged List" group: show all files merged into the current scene. Click "Reload" to manually reload the list. Click "Remerge" to re-merge the selected file into the current scene. Click "Remove" to remove the selected file from the list.
The progress bar now shows the merge process more accurately.
Fixed a bug that prevented the script from automatically reloading textures when merging into files.
Added new option "Auto overwrite": all overwrite queries will be suppressed and files on disk with same filenames as in archive will be overwritten.
Added new option "Save dialog position": save current position of Smart Merge dialog when close.
1.01 | 29/10/2021
Official product launch
Add file drag and drop feature
Added the ability to load multiple files at the same time
Add settings and about
1.00 | 01/10/2021
Finalize key features and release beta version.
IMPORTANT NOTES
By default, once you have saved the current scene, all models will be merged with the texture (since it is unpacked in the 3dsMax file location). If you want to move the location of the .max file, collect the textures with some free scripts like Collect Assets. It will automatically detect texture paths as "Found".
Version Requirement:
3dsMax 2011 or higher