Uni-Hide/UnHider
v1.16 Добавлено скрытие слоя с нажатым ESC и выделенным объектам. Added hiding the layer with pressed ESC and selected objects
v1.15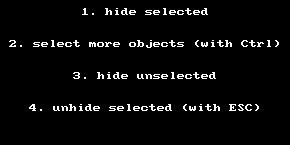 v1.14
Added: Will Hide all Layers except of the layer of an object allocated, If Esc+button of "Hide Unselected" command pressed.
It works even in sublayers (Thanks to Dmitry Belonosov and Vladislav Bodyul http://www.scriptspot.com/users/bodyulcg)
Добавлено: Скроет все слои, кроме слоя выделенного объекта, если нажата команда Esc+кнопка "Hide Unselected".
Работает даже в подслоях (Спасибо Дмитрию Белоносову и Владиславу Бодюлу http://www.scriptspot.com/users/bodyulcg)
Works on objects, selection objects and subojects
Edit_Poly
Editable_poly
Edit_mesh
Editable_mesh
line
SplineShape
Edit_Spline
ObjectSet
Unwrap_uvw
Additional Info:
install: drop to viewport
v1.13 Fixed isolate layer by Esc+ScriptHotkey
v1.12
Added: Will Hide all Layers except of the layer of an object allocated, If Esc+button of "Hide Unselected" command pressed.
Добавлено: Скроет все слои, кроме слоя выделенного объекта, если нажата команда Esc+кнопка "Hide Unselected".
v1.11
Supported Face (3 sub-object) in Edit / Editable Mesh.
Стал поддерживаться Face (3 подобъект) в Edit/Editable Mesh.
v1.1
Full refactoring code. Hide and Unhide all works on single comand.
Полностью переработан код. Скрыть и открыть всё работает по единой команде.