BG Switcher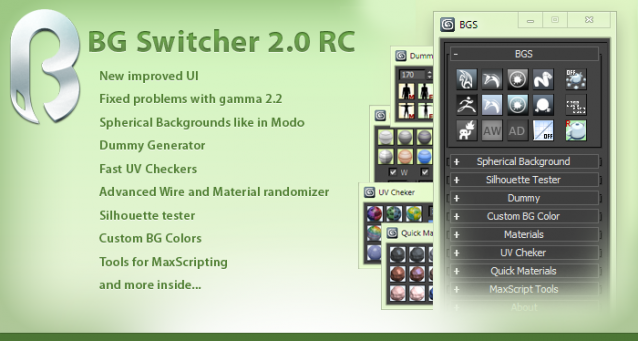 Additional Info:
Hi, here is the new version of BGSwitcher which allow you in easy way to set in you viewport nice gradient backgrounds and modo like backgrounds

New:
New ui
Fixed strips for gradient background (gamma 2.2 problems)
Spherical backgrounds like in modo (works just in 3DS Max 2012)
Silhouette tester
Dummy
Materials and improved wireframe randomizer
UV Cheker tool
Quick Materials
MaxScipt tools
I have recorded a video how to instal it and use BGSwitcher

it was first time when I made some explanation video and I was a bit nervous

and Sorry for my English.
I had a bit of problem with video an audio synchronization at the end of video :( so I'll try to update it later. sorry for this
For runing script I used Script Organizer
Also please have a look at Splitgatecentral video "Making of N0X-2292 (part 1)" on vimeo to see how usefull can be silhouette tester
If yo have any suggestion or found a bug please dont hasitate to contact me by mail. If you are interested to join and participate in discussion and developing of BGSwithcer feel fre to join to BGSwitcher room on IRC
Server: irc.freenode.net Room: #BGSwitcher
Thank you!
Version Requirement:
2011 or lower