Biped Helper
A companion interface for use alongside the main Biped panel.
See online guide in links section.
Features include:
- Supports multiple Bipeds in the same scene (picked via a dropdown list)
- Limited selection
- Hiding/Unhiding Biped
- Trajectory toggling
- Key all, key selected, delete all keys, and delete frame keys
- Setting TCB continuity values on a selection at the current slider time, or over the full time range (if keys exist)
- Adding or modifying limb Body/Object spaces (set Free or Planted keys)
- Change IK pivots via selection dialogs for limbs
- Toggle limb spaces
- Store all limb space settings and load them back again
- A posture for a Biped selection can be copied for later pasting
- Limbs can be quickly mirrored
- Spine can be quickly straightened or untwisted
- Load & save BIP animations using either the standard Biped dialogs, or via a quick method using a single overwritten file
- Layers manipulation using move up & down buttons or via a dropdown list, toggles for active layers, snap & set keys, and retargeting via a separate UI.
- Pose Grabber; for saving and reloading a single pose
- Create a single semi-opaque snapshot of all skinned meshes stored in a specified scene layer for posing reference, based on the current slider time.
- Alignment methods (offset or match) for all root keys to a target object which also respects limbs IK state
- Bake animation for a linked Biped root and it's limbs (see below)
- PDF features guide in the About rollout.
Baking features...
- Baking of head rotation to track an active assigned Look At Target (target will be removed after baking)
- Bip root baking using either direct linkage to an animated object, or to an object using Link Constraint to a target object
- Baking of limbs between first and last sliding keys
- Baking of a selected limb up to the next sliding key (from the slider time)
- Baking of a selected limb up to the last sliding key (from the slider time)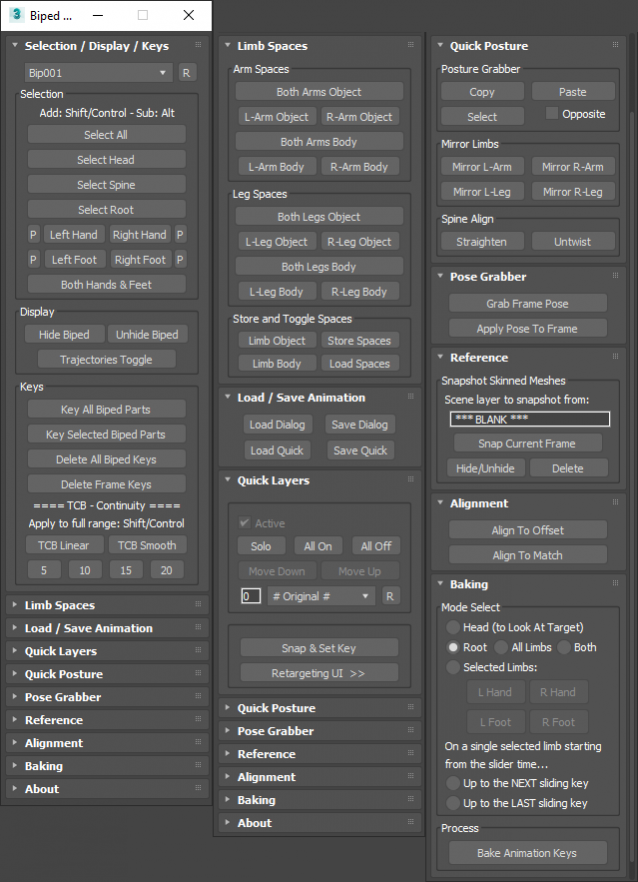 IK Pivots Selection...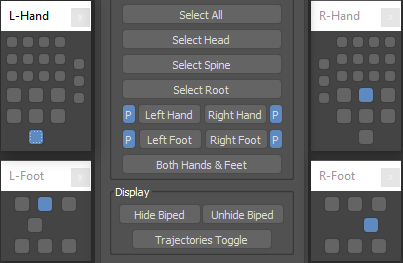 Latest Updates:
Version 3.1;
- Changed PDF guide button to link to an online guide.
- Added ability to hold shift to set planted keys for limbs. Store and load spaces now account for planted keys.
- IK pivot UI's and layers retargeting UI now follow main UI if moved.
Additional Info:
The script can be found in category "LB Tools".
The script creates its own macro to be placed as a toolbar icon or a keyboard shortcut added.
Installation:
Drag the MZP file into your Max viewport.
Files will be copied to...
C:\Users\<userName>\AppData\Local\Autodesk\3dsMax\<maxVersion>\ENU\scripts\startup
and...
C:\Users\<userName>\AppData\Local\Autodesk\3dsMax\<maxVersion>\ENU\usericons
Version Requirement:
3dsmax 2019-2023