FumeFx Preset Tool
UPDATE: v1.0Beta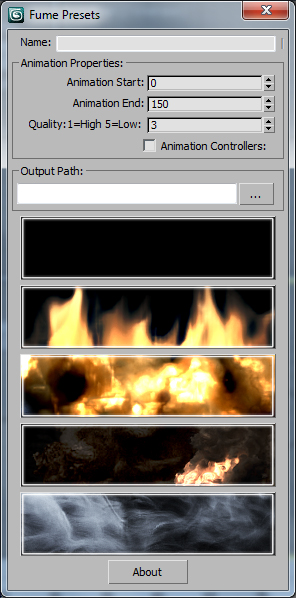 Hi Again!
Thought i would give you guys a christmas Preset! ;) What better then to make fire whens its cold! Well unless your an aussie, as that would just be plain stupid ;)
EDIT:
Fixed two more Bugs:
ToolTip was incorrect on the animation controllers.
Animation wasn't keyed on the explosion, when the animation coller tick box was off.
EDIT: Fixed the saveOutput Bug.
Anyways the instructions are in the .rar file attached.
Also creating Fume container's through maxscript breaks the preview window, restarting max sovles the issue.
Also v1.1 FumeFX wont actually work with this, as they changed the preset files from 1.1 to 1.2. Getting FumeFX 1.2b fixes this issue.
Also thanks for all the replies and emails i have been one slack person with responding, busyier then I like to think.
Enjoy!
Kieran.

www.kobfx.com
ORIGINAL:
Hello!
Not too long ago I decided to start tackling some Max script to speed up my work flow, after doing a simple tool for cracking geo (just like rayfire by mirvadim.....which IS far more stable, and integrated into reactor/PhysX), I decided to tackle something which extends the "preset" functionality in FumeFX.
Basically what I have made is something that takes the auto pilot out of the initial set-up, (which I have now found to save me anywhere from 15 -30 mins of intial set-up on effects, this is great as I am just making my fx's library at work, so there's nothing to go from.)
A quick run-down: Makes a container, light, source, add them together with their own specific attributes, loads in a preset i have created. Then one button click later and your simulating a preset like fire, or an explosion.
What I have is fairly basic and I plane to extend this further in my spare time. But ANY feed back on what I am making/showing would be awesome!
ATM I'm not looking at releasing it, as is a bit buggy, and fairly simple, but once I have a tone more presets, get it being allot more reliable, and overall more "complete", I'll then most likely will release it out.
Currently I have made four main and one standard preset: a "default", "Fire", "Explosion", "Oil Fire" and "Mist".
I'm looking to add more elements like different types of smoke, more elements to explosions, embers into fire, magical effects, handles (in view port) for extra animation, material connection into FumeFX,container baking to moving objects, baking to particles, and also particle driven fume.
A nice long list, but something which will save me heaps of time making FX's at work, and also save other time as-well.
Anyways here's a link to all the video's that are on my site (hosted on youtube through my website, and should be HD), please comment, as the feedback for what you guys think or would like to see would be fantastic!
Cheers Kieran!