Auto Align UVWMap
3dsMax Script for applying UVW Map Modifier Depending on Selected Edge or Longest Edge of each Face .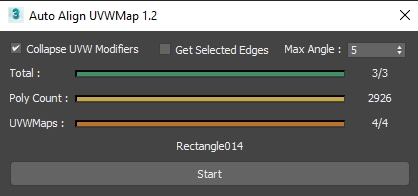 UPDATE 1.4 :
Fix UV Modifier Alignment .

Set Coordinate system to Local (getting wrong result on other coordsystems) .
UPDATE 1.3 :
Improve the Function of Grouping Faces by Angle .
UPDATE 1.2 :
New UI .
Improved Function Speed .
Add CheckBox to Get UV Rotation from Selected Edges .
Add Max Angle Value to Detect Polys with Same UV Modifier .
UPDATE 1.1 :
Lock Max UI for Better Performance , (Thanks to Barigazi) .

Add Progress Bar .

Normal Execute will keep all the UVW Map Modifiers .

AltExexute will Collapse the UVW/EditPoly Modifiers .
IMPORTANT NOTE : The script not made to deal with heavy objects , so please save your work before using it .