BOA Dist
Quick Object Distribution tool for 3ds max.
Developed to be a simple alternative to object distribution plugins.
Ideal for low count instance distribution.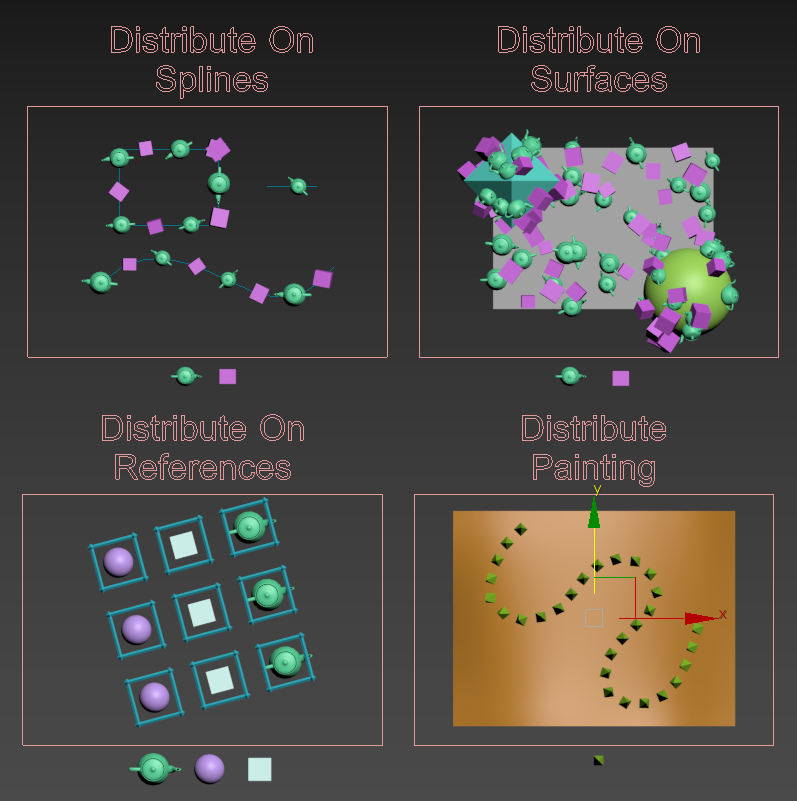 More information on: www.boxofapps.com/boadist *Alpha and Beta versions are Free to use on commercial projects.
Additional Info:
Current Distribution Modes:
Splines
Surfaces
References
Paint
v0.5.0-alpha.0 (2021-11-30)
Changes:
New feature: Add random offset on the placement of the object.
New feature: Random Transform Mirror option on X Y Z axis.
New feature: Reference mode option to replace references.
New feature: Reference mode option to place only on a percentage of references total
New feature: Align to destination only on specific axes for rotation and scale.
UI: Properties rollout will be open by default.
Default Offset of x rotation:-90 and y rotation:-90 on the "Align with destination" on splines so objects z are world up
Fixed reset rotation option was happening after "Aligh with Destination" now it happens before
Fixed distributed objects on splines not following actual spline transform rotation
Fixed distribution settings not persisting on the file.
Fixed error where distributed objects selected as destination objects were deleated on redistribute.
Included buttons to add or remove selected objects to/from "distributed" list.
Fixed dropDownBoxes not showing options when editing multiple distributions at once
Fixed "select" (By Name Patterns) button not selecting the objects.
Known Issues:
There is no optmization to high number of instances per distribution (1000+ objects) at this stage.
It is possible that some settings will be lost when opened on newer versions due to differences in data structure.
If loading the previous settings fail, previous distributed objects will not be deleted on new distributions.
Some settings are not yet implemented on certain modes. This condition is not yet reflected on the UI.
Paint distribution mode relies on Object Paint feature in 3ds max and some settings will not work at this moment.