infoOverlay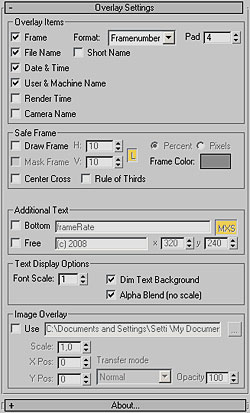 Updated to v0.9 - This Render Effect displays additional information such as frame number - file name - render time etc. as overlay onto your rendered image. Useful for previews - previzualisation and other non-final renderings - should work with any 3dsmax-compliant renderer. All parameters animatable. 
Additional Info:
Complete list of features:
Scene file name - optionally just the file name without path
Render date & time per frame
User & render machine name
Name of current camera
Frame number - optionally in SMPTE or seconds (new in 0.9)
Freely defineable user text with X/Y position (new in 0.9) - accepts generic MAXScript commands for custom frame information
Adjustable font size
Image Overlay (e.g. for watermarks) with different types of compositing modes and scaling
Display of safe frame
Center cross and 3x3 'Rule Of Thirds' grid
To install - unzip into your 3dsmaxroot\scripts\startup directory (if you haven't changed the startup directory setting) and restart 3dsmax. For more details - see header of the script file.
Version Requirement:
6 - 2010