Interactive Rollout Builder
The visual maxscript editor has issues... doesn't make nice code and is generally useless. So instead I made this...
Visit my facebook page for more info
Run the mcr file and find it in your customise user interface windows under 'DW Tools'
Version 1_0 - Release
Version 1_1 - Bug fixed which could allow nested groups, which maxscript doesn't like and would therefore crash.
Version 1_2 - Released unencrypted so that it works in 3dsmax 2017 and well... because who doesn't like to learn (judge) from other people's code....
Version 1_3 - Bug Fix: Deleting groups now works...
Bug Fix: Data is maintained when you open/close/open the tool
Main UI is now resizable
ProgressBar Control switches orientation automatically
ListBox, MultiListBox, ComboBox and Dropdownlist now have move item up/down controls.
Version 1_4 - More Rollout properties exposed, Bugs fixed with escape characters, duplicate names of controls bug removed.
New Feature: Store and load UIs, have live resize information saved,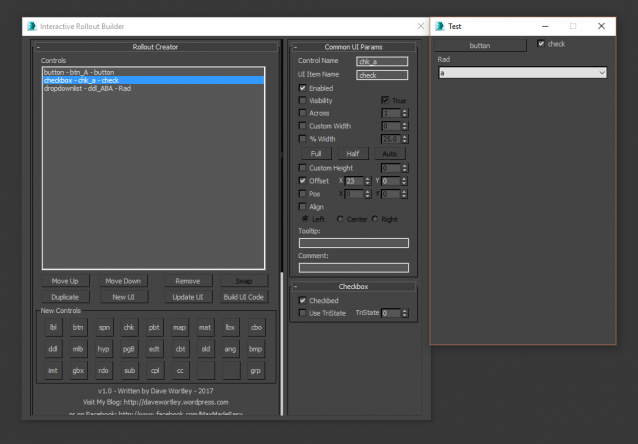 Version Requirement:
Only tested on 3dsmax 2016 but should work for all versions.