Object Properties 2.0
A non-modal Object Properties window, very simliar to the original one in 3dsmax but this allows you to change selection with the dialog open! It also has the VRayProperties window included so you don't have to switch dialogs when setting up passes. (Needs updating for VRay 3.0+) There is also a MaxScript tab which shows you loads of information about the object you have select and this is really powerful for learning to script!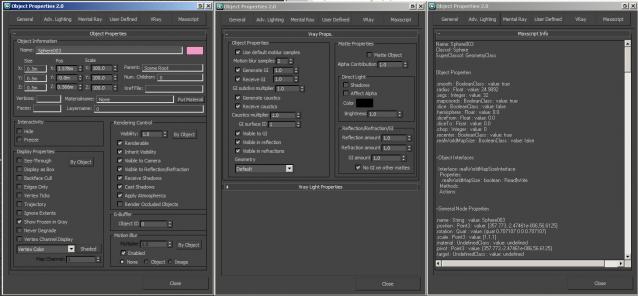 Additional Info:
Installation
Run the macroscript and find Object Properties 2.0 under the 'DW Tools' Category.
Known Issues
There are a couple of bugs when it doesn't refresh but I've never been able to reproduce these so if you find a way please leave a comment.
Version Requirement:
3dsmax 2008+
Other Software Required:
Vray 2.0 +