pX LocoRandomizer
Randomize multiple object properties is something useful, but the randomizer I found in the internet they always randomize only position/rotation/scale.
Then I was working creating this plugin to randomize every property or parameter from multiple objects.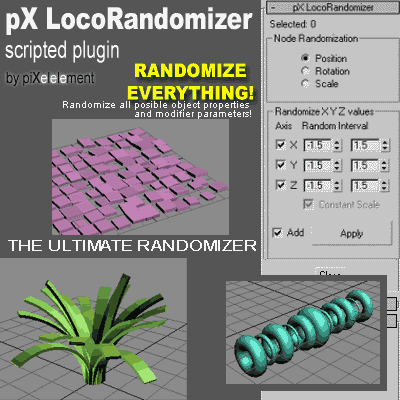 Additional Info:
-- Short Desc:
pX LocoRandomizer is a MAXScript Utility Plugin to randomize/set
values of all posible properties or parameters from multiple objects
simultaneously. Extremely flexible and easy to use.
-- Features (Version 1.0):
-- + Randomize/Set basic node transform properties: Position / Rotation / Scale
-- + Allow manual entry of Object property name (MAXScript syntax)
-- and randomize/set its value.
-- + [Test] button allow check the Type (or class) of the manual entered
-- property name.
-- + [Pick...] button lets us select a parameter from a Track View Pick Dialog.
-- + User can enter a list of MAXScript assignations, then apply it randomly to all objects
Version Requirement:
Max 5.1 to 9.0, 2008...