Randomize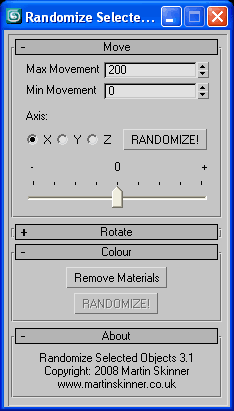 Randomize v3.1.ms
Randomize allows the user to generate
a randomness to objects on mass that might
otherwise look to well ordered....
Additional Info:
Randomization occurs through move or
rotation transformations, and can also be
used to Randomize the base colour of the
selected object.
Example of use; after setting out an office
scene this script could be used to shuffle
items on the desks, or rotate all or some of
the desk chairs.
Installation 
Each Maxscript comes zipped, along with
.txt manual file, and any .jpgs required.
To install the script;-
1) Download the file (follow the link below).
2) Unzip the file and copy the content to
   your Scripts folder for 3dsMax (version 8
   or higher).
That's it, you're good to go!
Version Requirement:
Version 8 or higher