Show DotNet Properties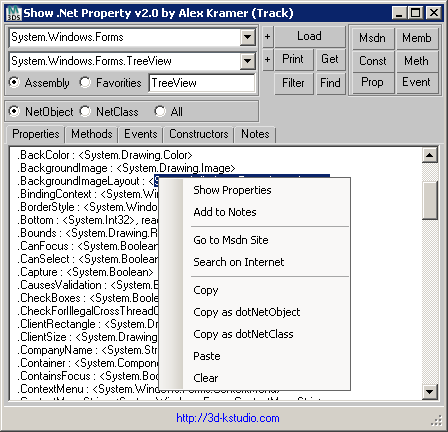 Utility for Developer. Main Features:
Loading the .Net Objects from .NET Framework Class Library.
Search for .Net Objects with the desired properties.
Load to the list of dependent .Net Objects.
Fiilter the list by name the .Net Object.
Convenient copying.
The built-in note-book.
v2.04
Adds support for 3ds Max 2008
v2.08
Adds Search TextBox
Fixes issues with garbage collection (only in max 2010)
v2.10
Replacing the Combobox to DataGridCombobox for solving issues with garbage collection (including 2008 and 2009 3dsMax)
v2.20
Fixes issues the"Combobox" with Garbage collector - now you can use one version in any 3ds Max Version (See more on cgsociety.org)
Adds the ability to show properties for global variables (for example: you can make global variable MyListView in your script and check then properties in utility)
Adds the ability to dynamically search for text
Adds the ability to Execute selected text (You can found this in right-click menu)
----------------
3d-kstudio.com
3d models
FilePathFinder-for search, relink, collect, sort and rename asset filles...
Additional Info:
Archive include two version of script:
"Show.NetProperty.2010+.ms" for 3dsmax 2010
"Show.NetProperty.ms" for 3dsmax 2008 and 2009
Version Requirement:
3ds Max 2008 and above