Stock Model Fixer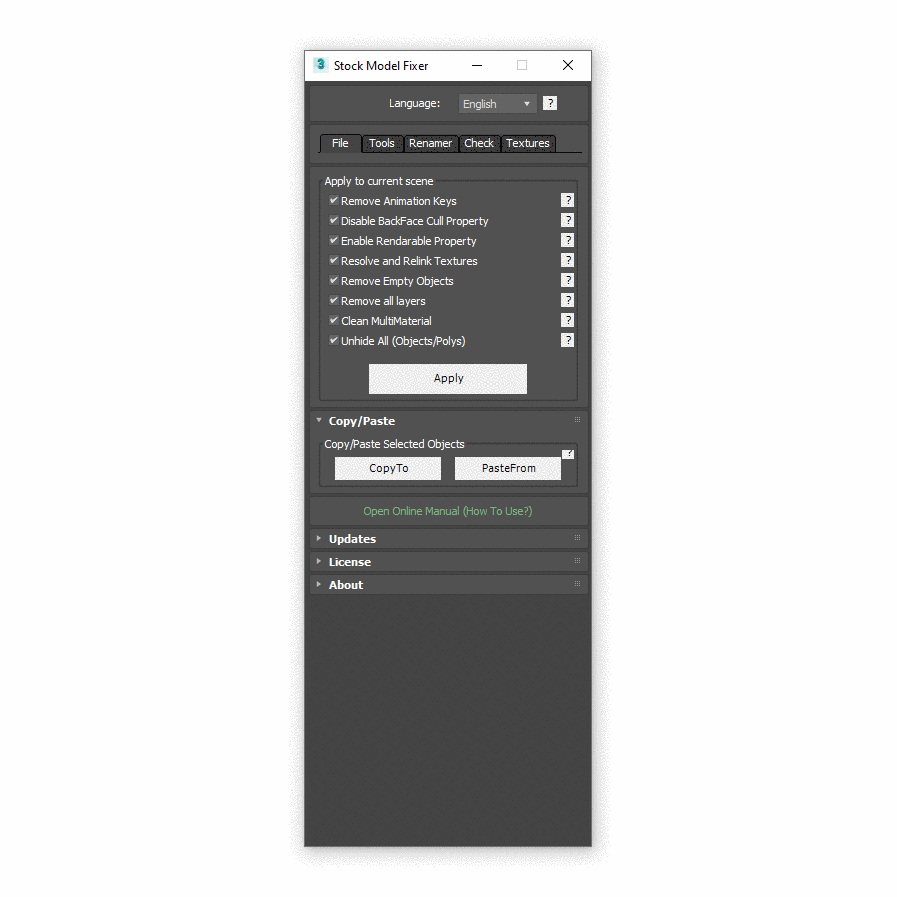 With this script you can quick prepare model, downloaded from 3D stocks, before merge into your main scene.
Stock Model Fixer is indispensable when using models from 3ddd/3dsky, cgtrader, hotpies and other resources.
Additional Info:
Before usage read manual: Read Full Manual
Features:
Remove animation keys
Disable BackfaceCull property
Enable Renderable property
Resolve and Relink textures
Remove empty objects
Remove layers
Clean MultiMaterial
Unhide all objects/polys
Instant copy/paste selected model between 3Ds Max windows (different versions)
Work with TurboSmooth (Add, Remove, Select, Iters. to 0)
Fit model to dimensions
Geometry fix (Reset XForm, Detach Trick, Box Trick, Snapshot)
Group/Ungroup
Fast set pivot
Move model to center scene
Attach selected objects
Rename: textures, materials, objects, groups
Check for errors (xView, AssetTracking, Clay Mode)
Copy textures in to project folder
Automatic updater
Hints and tooltips
Multilanguage interface
How To Use:
Unzip the model you downloaded from anywhere on the hard disk.
Make sure that you have extracted all the files and textures of the model.
It is most recommended to open two 3Ds Max windows, one with your scene, the other for preparing the model.
Create a new scene and open the model then click theApplybutton in theFiletab in the Stock Model Fixer, so all the options from the "Apply to current scene" are applied.
In theToolstab it is necessary to doBoxTrick,DetachTrick,Snapshot,Reset XFormof your model, to fix the broken geometry.
In theTexturestab, select the Texture Path to your project(Copy Textures To Folder)and clickCopy Textures. All model textures will be transferred to a new location.
Copy and paste the model usingCopyTo/PasteFrom.
Well done!
Important!
If some feature not working (ex.: Texture Renaming), just run 3Ds Max from Administrator!
In Stock Model Fixer a lot of tools for optimizing and preparing the models, for more details read full manual!
Version Requirement:
2012