Turn Viewport Maps On/Off
This is a very simple script for turning Bitmaps on and off in the view port. It has been very popular in the studio that I work at work so I though I would upload it. Its funny how the simple ones are the ones that every one likes. Anyways it will let you turn view port maps on or off, it works with Standard and V-Ray materials. It also handles multi sub materials with no troubles, you can also choose to display Bump or Reflection maps. If you have any troubles or ideas for new features please let me know.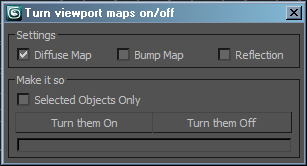 Updates:
29/07/2010 I have updated the version for download. Changes include:
I have fixed the problem that lead to bump maps not being turned off and on.
I have Added support for MR Arch Design material s.
Cheers,
Dave
Version Requirement:
3ds Max 9+