UV Puppy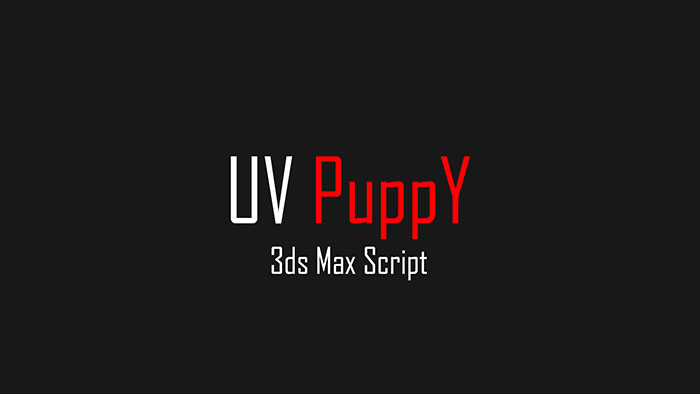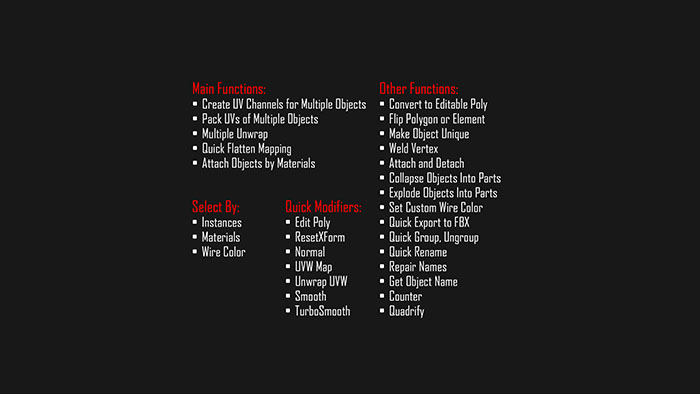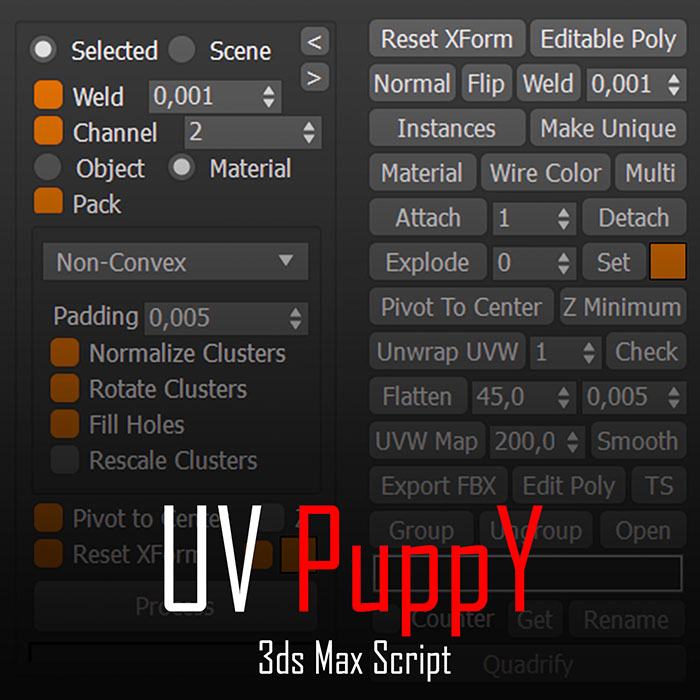 UV Puppy is a set of "quick to use" buttons and different functions, mostly created for a batch work with UVs. With this script, you can easily create a second UV channel for a large number of objects to bake lighting in your favorite 3d software or game engines, such as Unity or Unreal Engine 4. You can easily unwrap a group of objects with quick flatten mapping, attach and pack objects by material just in few clicks. There are many other useful functions that could help you to speed up your work, please check the list.
UV Puppy is a free tool for 3ds Max. But if you'd like to support Utopia Syndrome game, you can donate on Gumroad:
https://gumroad.com/l/TIWvd
UV Puppy Tutorials are inside the archive at Gumroad!
Have fun with this script and Cheers!
Additional Info:
Main Functions:
• Create UV Channels for Multiple Objects
• Pack UVs of Multiple Objects
• Multiple Unwrap
• Quick Flatten Mapping
• Attach Objects by Materials
Other Functions:
• Convert to Editable Poly
• Flip Polygon or Element
• Make Object Unique
• Weld Vertex
• Attach and Detach
• Collapse Objects Into Parts
• Explode Objects Into Parts
• Set Custom Wire Color
• Quick Export to FBX
• Quick Group, Ungroup
• Quick Rename
• Repair Names
• Get Object Name
• Counter
• Quadrify
Quick Modifiers:
• Edit Poly
• ResetXForm
• Normal
• UVW Map
• Unwrap UVW
• Smooth
• TurboSmooth
Select By:
• Instances
• Materials
• Wire Color
Version Requirement:
3ds Max 2016 - 2019