Wheel Rotation Controller
Works both with keyframe animation and path-constrained objects. Doesn't need helper objects. Both the direction and rotation of the object is calculated.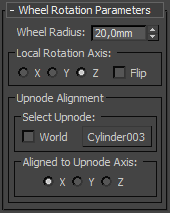 Additional Info:
Installation:
Copy the .ms file to your scripts\startup folder or run as a script if you only want to try it out. The controller will be available in the list of rotation controllers in the Assign Rotation Controller dialog.
Version Requirement:
3DS Max 2016 EXT1