Batch Merge
Quick script to merge multiple files in a scene quickly.
Changelog from 1.3: Added support for many file formats for merging including
fbx, prj, dwg, dxf, ige, igs, iges, max, 3ds, shp, skp, stl, obj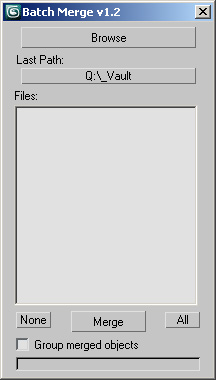 Additional Info:
Installation:
1. Run script
2. In Max goto "Customize->Customize User Interface...->Toolbars tab->Category: ColinScripts->Batch Merge" and drag "Batch Merge" to a toolbar, click to run.
3. Click "..." to browse for a folder in which the .max files reside
4. Select the files you wish to batch merge and press "Merge"
Version Requirement:
3dsmax 9+