DesignToolBox
Design Toolbox is a collection of tools designed to accelerate and simplify basic modeling tasks of architectural, urban or interior scenes tools: Standard transformations by reference, like the ones usually found in more precise work oriented applications; Fast measurements, speed up positioning of reference coordinates and workplanes. It also includes some other useful tools for quickly apply and manipulate uvw maps, for paneling simple surfaces; plus some others useful time saver tools.
DesignToolBox is packed with our previous tool, refGuides:
refGuides includes a set of tools intended to improve and facilitate accurate modeling, particularly helpful for modeling architectural scenes. This tools allows to create construction lines guides, for accurately position and model objects. They can also be used as rulers, displaying measurement units in the viewport. Other great added feature is the ability to snap to intersection points.
This version includes several fixes and improvements, along with some new tools and functionality, for example, orthogonal tracking has been implemented in scale, redimension and measure tools. read the changelog to see the major changes. Also there is a new help documentation page, up to date and more descriptive.
Main features: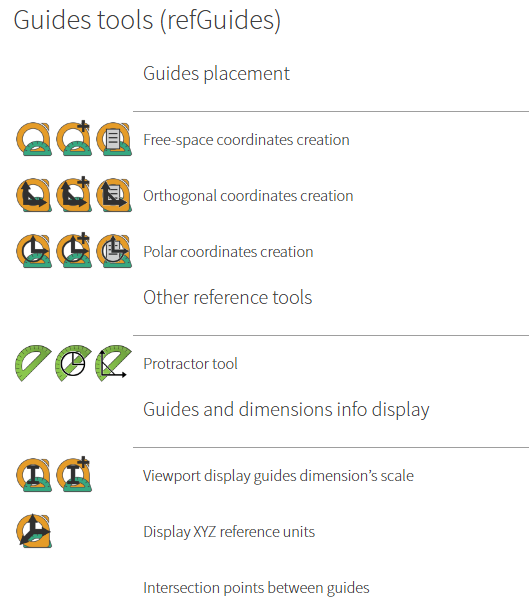 Look at the changelog about the new tools added.
If you have any ideas to improve this tools, or some tool you would like, feel free to comment, suggestions are always welcome!
Additional Info:
Version 2.00 Changelog
New Tools

unFreeze by selection.
Continued measure distance.
Spatial and standard transformations live info.
Map tools

New Features

reDimension:

Added orthogonal tracking.
Fixed incorrect results in scaled objects.

reference Scale:

Added keep proportions option.
Added Xform modifier mode.
Added Orthogonal tracking.
Enhaced behavior on certain situations, less incorrect results.

Measure Tool: Now the tape is drawed until the next measure.
Area measure: Added orthogonal tracking.
Divide tool

Added keyboard imput mode instead of mouse movement.
Added Orthogonal tracking.

Move Around: Added clone object option.

General changes

General stability improvements and fixes.
Improved viewports perfomance of refGuides tools.
Fixed "Lock" tool

Lock Object Scale wasn't working propperly.
Fixed overall behavior when some locks were already been set

Measure Tool: Now the tape is drawed until the next measure.
Divide tool: more responsive segments selection.
MultiMap : Previous extra tools (fit, center and reset UVW Gizmo...) can now be used as a separate tool.
Improved "put assets in line" with a options dialog.

UI Impovements

Overall Tooltips completion, information and ease of use tweaks
Redesigned "move Around" UI to make it more useable and straightfoward.
Updated tools dialogs
Important note: If you are upgrading from refGuides, you will need to uninstall it first. some features needs to be manually removed.
refGuides standalone and the included refGuides tools in DesigntoolBox are not compatible right now.
Some features like "Add Chamfer" in Panelign tool will only work with 3ds Max 2016 and up.
This is a commercial script.
Version Requirement:
2014 x64 - 2017
Other Software Required:
Microsoft .net 4.5+