Detach Elements
Detach all elements on multiple objects with a few options for better scene arrangement,
including convert to mesh, group by source or link to source or point helper.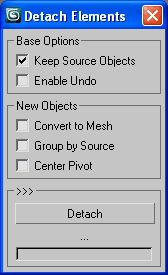 Additional Info:
Please read the notes inside the code as well.
Update:
Recently asked me for installation instructions so I add macroScript.
Briefly, put Detach_Elements.ms into your scripts folder and run .mcr file once.
After that you'll find it into Tools category in your Costumize User Interface.
Version Requirement:
any 3ds Max version