Elements to Objects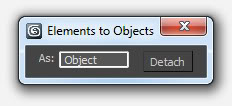 A simple detach tool that explodes the selected objects into their elements.
Additional Info:
Works on any selected geometry that is convertible to editable poly.
Once all elements are detached, the empty original objects are deleted.
The new objects have their pivot centered, a ResetXForm applied and are collapsed to editable polys.
There is no need to be too precise when selecting multiple objects, as bones, lights, helpers, particle systems, etc, will be ignored.
Version Requirement:
tested on max 9 32-bit and max 2012 64-bit