Heuristic Edge Select
Select a loop of edges both on quad and non-quad geometry. Both a command without GUI and a settings dialog to fine-tune the stop cases are available.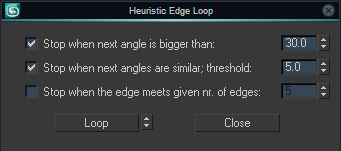 Installation: Run the .mcr file or drop it to the viewport. This will create a new category, Advanced Poly Ops and new item in it, Heuristic Edge Select. Using Customize User Interface dialog, you can assign a keyboard shortcut to the loop command and add it to a menu or a quad-menu – the menu/quad-menu item will also have a settings box where you can set the constraints of the loop or grow/shrink the loop.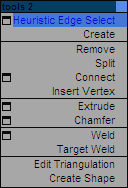 Additional Info:
Changelog:
Version 0.02b:
Added support for Edit_Poly modifier.
Version Requirement:
3ds Max 9, VIZ 2008