imageCompHelper
I wanted to create a script to visualize the `Rule of Thirds` inside the 3ds Max Viewport, to aid in the composition of my camera shots. Inspired by this script I also added some other overlay options. The lines inside the viewport are drawn as a kind of render effect, so no geometry is created and no camera is needed. They will interactively adjust to any image aspect and are visible in the active viewport, so switching the viewport will also move the lines there. Use the checkboxes to toggle each ones visibility.
Update 05/06/2013: Script now remembers its position and settings. Added buttons to quickly select and transform the viewport camera and target so you do not need to switch viewports.
Update 20/04/2013: Added Golden Triangle (flip by rightclicking)
Update 05/02/2013: Buttons now change color instantly, changed coloring of lines from rgb array to gw.setColor so it works with Nitrous
Update 20/11/2012: Added the golden spiral (similar to Fibonacci spiral); Color selection now reflects instantly
Note: This by nature is fixed to an aspect of 1:1.618. Rightlick "Golden Spiral"-Checkbutton to flip the orientation of the spiral.
Update 21/10/2012: Added option to pick custom colors
Update 25/11/2010: Fixed a small bug, added custom grid option and did some UI changes.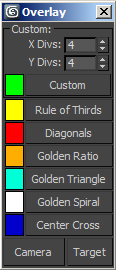 DIfferent modes: