Project Manager

Project Manager -the utility for cataloging and use 3d models,materials, IES,HDRI & etc..
It help you with cataloging and using in your projects of a bitmaps, library of models and materials, also IES and HDRI files.
For more convenient job with libraries all information is presented in the thumbnails view.
The utility supports the viewing of all image formats supported by 3ds Max(Such as HDRI,EXR,TGA,PSD and more).
Project Manager v.1.67.92
Adds the ability to save the Vraydispalcement modifier with Texmap Map.
Fixed an issue with saving the two and more modifiers with same class.
Fixed an issue with filtering the materials.
Fixed a bug with updating selected material library when use filter.
Fixed an issue with locking shortcuts, occurring on some computers.
Fixed some minor issues with interface.
Fixed a bug with setting the Material/Map Browser to old style
Project Manager v2.xx
(Coming soon)
Increase speed of loading the items
Increase the size of thumbnails up to 256px
Reducing the size of used memory
New View type: Thumbnails & Details
Support to multiple Favorites folders
Favorites can contain the folders and files
Update History for all versions.
| | | | | | |
| --- | --- | --- | --- | --- | --- |
| Models | Materials | Textures | HDRI | IES | Asset Files |
---
The organization system allows the to keep references to same folder in different cataloges.
For example you can put same folder of 3d models "Classic Chandeliers" in the catalog "Classics" and catalog "Lamps".
For libraries of models, materials and IES files by means of the utility you can generate thumbnails.
Much of the job with the utility is based at the most simple method - drag & drop, including work with IES files, materials and HDRI.
You can drag and drop materials and textures directly into the viewport, the objects in the Material Editor and modifiers in the Command Panel (for example, displace).
In the same way you can quickly and easily fill catalogs tree - by dragging folders from Windows Explorer to the navigation panel of Project Manager.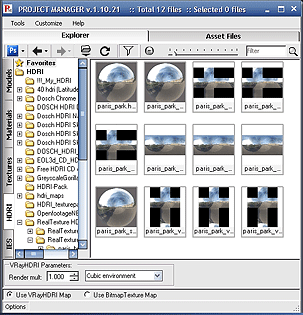 ---
Features:
Main Features
Simple adding the models, materials, textures and IES into the scene
Cataloging libraries of models, materials, textures and IES
Full support to all types of Drag&Drop (Cataloging, merging, apply materials & etc.)
Displays thumbnails for Bitmaps, 3d models, Proxy, IES, Material Libraries and other file-types (include formats HDR, EXR, PSD and other)
Generation preview for models, materials, and IES
Ability to exclude from Merging unwanted objects
Ability to auto-fix Texture paths for merged objects on the fly
Replacement scene objects by other objects
Automatic conversion the merging models to the proxy
Saving Proxy with materials
Save\Restore Materials with modifiers
Support to Slate Material Editor
Search files by name and description.[*

new

]
Ability to add a description to Max files.[*

new

]
Display of embedded thumbnails in 3ds max and AutoCad files.[*

new

]
Asset Tracking
Search for missing assets
Relink external files
Collect external files
Ability to exclude files from collecting by type of file
Rename the links by mask
Removing the maps from scene
Selecting the objects by their links to files
Displays in interactive mode a list of files linked to selected objects
Place Materials and BitmapTextures into the Material Editor
Show\Hide bitmap in viewport
Opening the files into the external application.
Ability to сollect the Asset files via clipboard and drag&drop method
Include the "Batch Render&Relink" tool for organize the Asset files into the 3d Models and Materials Libraries in the batch mode
Support to xRef files.
Misc Features
Support to almost all known renderers and plug-ins.
Unostentatious and "Transparent" the demo-version
Ability to back-up settings before reinstalling 3ds Max or Windows
Autocheck for updates
User-Friendly interface
Usability Default Setting
---

Additional Info:
This is a commercial script.

Wishlist for future versions.
Search files [ready]
Save\Apply materials with modifiers [ready]
Custom studio for materials and models [ready]
Show materials in tree
Note: Please use latest updates for your version of 3ds max
3ds Max Updates & Service Packs
3ds Max Design Updates & Service Packs
For plug-in work it is required to Net Framework version 3.5.
http://www.microsoft.com/netframework
Known Issues:
3ds max 2010 does not correctly work with files and folders that contain non-unicode characters(Russian, Chine).
Demo-version:


Demo version allows to work only with non-strikeout files.
Version Requirement:
3ds Max 2009 and above (32 and 64 bits)
Other Software Required:
Net Framework version 3.5