Project Manager
3rd version of Project Manager gains a lot of new features for management 3D Assets.
There is most unique from them – the ability to assign custom previews to materials, associate files with materials, and create a gallery of files associated with any type of assets including materials.
You can also write a description for material and, of course, add materials to favorites.
Adds an ability to convert and resize images
Adds support to VRay 5
Adds support to TX image format
Adds support to ambient occlusion map used with V-Ray and Corona when creating PBR materials from multiple textures
Speed-up opening Favorites folder
Speeds up opening the "Favorites" dialog
Speeds up adding files to Favorites using the "Favorites" dialog
Various other memory and speed optimizations
Fixes a minor issue with creating PBR materials from multiple textures.
Fixes an issue with saving the models selected from a scene as separate files when the "Save Assets" option is off
Fixes an issue with saving the materials from a scene to the material library when the "SaveCopy with Bitmaps" option is off.
Fixes a bug with opening Mass Rename Tool in versions 3.10.27-3.10.33.
Fixes an issue with searching by materials
Ability to create PBR (Physically Based Rendering) materials when dragging multiple bitmaps.

Adds an ability to change item's preview size in the list using CTRL with mouse wheel

Adds buttons to the toolbar on the Textures tab for creating materials from selected bitmaps

Adds a new BatchModes to 'Batch Render&Relink' API - #RelinkPreSave, #RelinkPostSave. See an example in file "presetsAPI examplesBatch Script Example.ms"

Fixes an issue with display search result when searching in comments is on

Fixes a bug with merging models when Corona Interactive rendering is running

Fixes an issue with placing materials to Slate Material Editor when option "Convert file paths to UNC" is turned on

Fixes an issue with creating PBR materials from SBSAR files in 3ds Max 2017 and below

Fixes an issue with getting information about bitmaps from the cache
Update History for all versions.
| | | |
| --- | --- | --- |
| Models | Materials | |
| Textures | IES | Asset Files |
---
Quick Start Frequently Asked Questions
Main Features
Easy to organize and use 3ds Max Models, Materials, Textures and IES Photometric Lights.
Merge Models, Materials, Bitmaps and IES using Drag& Drop.
Store/Create Proxy with materials.
Interactive rendering previews for Materials, IES Photometric, BVH Motion capture, FBX, OBJ, 3DS and other such 3d files.
Show native previews for 3ds Max files, ArchVision RPC, GrowFx, Revit, Substance, BIP motion, SketchUp, Revit, HDRI & etc.
Support to Substance textures
Search files by tags and file-names.
Power Asset Tracking Management.
Support to most used renderers like V-Ray, Corona, Octane, Mental Ray, Maxwell & etc.
Project Manager's Features in Infographic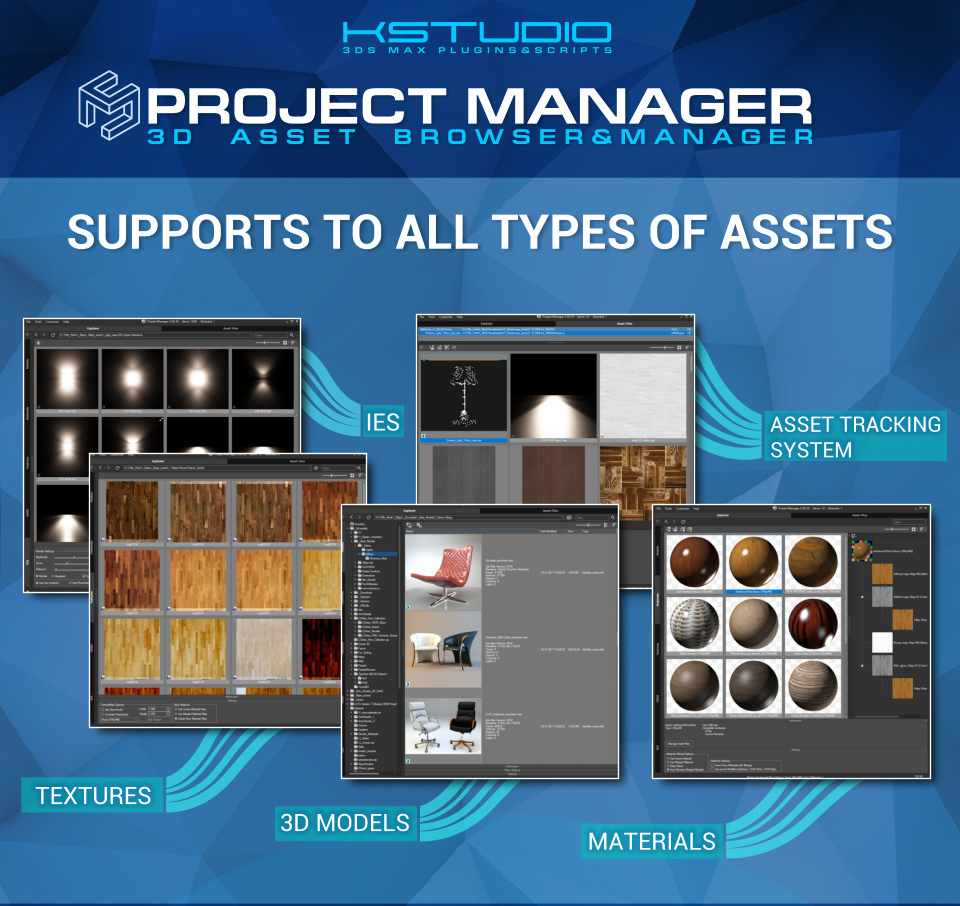 Version Requirement:
3ds Max 2014 and above