Project Manager
There is most unique from them – the ability to assign custom previews to materials, associate files with materials, and create a gallery of files associated with any type of assets including materials.
You can also write a description for material and, of course, add materials to categories.
Adds an ability to batch export 3d files to 3ds Max file format
Supports converting Vray and Corona Proxy to 3ds Max file format
Supports to specify 3ds Max version on export 3d files to 3ds Max file format
Adds an ability to set hotkeys for programs in the "Open with..." menu items list
Renames "Asset Files" tab to "Asset Tracking"
Fixes some minor issues with ProxSi
Fixes an issue with converting some objects to proxy
Adds support to 3Ds Max 2022
Adds an ability to specify pivot point on rendering preview for models
Adds an ability to add materials to templates using drag&drop [Add template Material(s) function]
Adds an ability to paint over xRef objects
Speeds up merging 3d models
Speeds up merging 3d models as xRef
Fixes a bug that occurs in some scenes on opening Asset Files tab
Fixes some issues with applying textures
Fixes an issue with fit a proxy to the viewport on rendering preview
Fixes an issue with removing atmospherics on rendering previews
Fixes other some minor issues
Renames "Favorites" to "Categories"
Adds new abilities to filter items by categories
Adds an ability to specify output filename on rendering previews for models
Adds an ability to sort and exclude files from the Gallery (look for in Auto-Assign Previews, Sorting & Exclusions tab)
Adds an ability to export VRMESH (Vray proxy) and CGEO (Corona proxy) files to other formats through the menu
Speeds up merging complex scenes
Speeds up opening Material Libraries
Adds support to Q-Proxies
Fixes an issue with updating render settings for "Batch Render&Relink" tool
Fixes an issue with render settings dialog in 3ds Max 2016 version and below
Fixes an issue with isolated nodes when rendering previews
Fixes an issue with using whitespace when renaming items
Fixes a bug with creating materials from bitmaps in 3ds Max 2014
Fixes an issue with creating PBR materials from textures for Corona
Fixes an issue with creating PBR materials when V-Ray GPU is active
Fixes an interface issue with using a high screen resolution
Fixes an issue with relinking 3ds max files with Batch Render&Relink tool in Fast Mode
Fixes an issue with relinking textures on merging 3ds max files
Fixes an issue with collecting and relinking material libraries on the Explorer tab when <FilePath> relative collect path is used
Fixes an issue with saving the size of Categories panels
Fixes some minor issues and optimization improvements
Update History for all versions.
| | | |
| --- | --- | --- |
| Models | Materials | |
| Textures | IES | Asset Files |
---
Quick Start Frequently Asked Questions
Main Features
Easy to organize and use 3ds Max Models, Materials, Textures and IES Photometric Lights.
Merge Models, Materials, Bitmaps and IES using Drag& Drop.
Store/Create Proxy with materials.
Interactive rendering previews for Materials, IES Photometric, BVH Motion capture, FBX, OBJ, 3DS and other such 3d files.
Show native previews for 3ds Max files, ArchVision RPC, GrowFx, Revit, Substance, BIP motion, SketchUp, Revit, HDRI & etc.
Create PBR (Physically Based Rendering) materials
Support to Substance textures
Search files by tags and file-names.
Power Asset Tracking Management.
Support to most used renderers like V-Ray, Corona, Octane, Mental Ray, Maxwell & etc.
Project Manager's Features in Infographic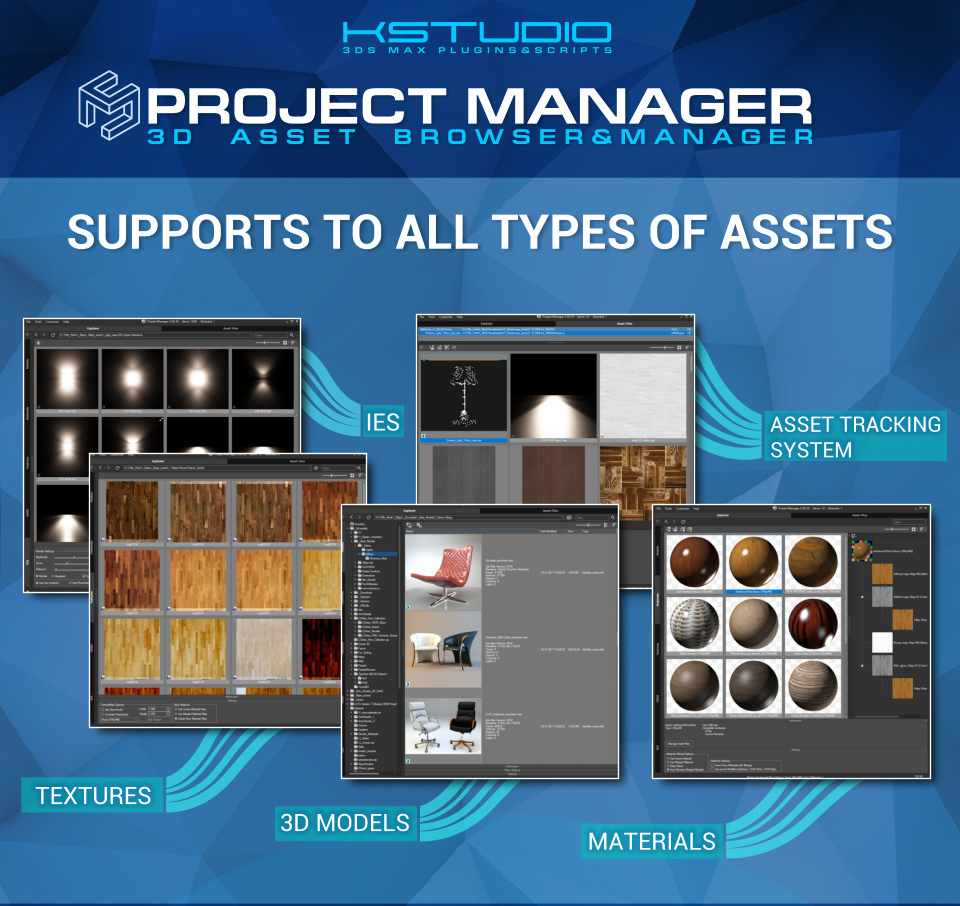 Version Requirement:
3ds Max 2014 and above