Render Info Strip
This script was created upon request as a vray frame stamp replacement, intended for mental ray and scanline rendrers.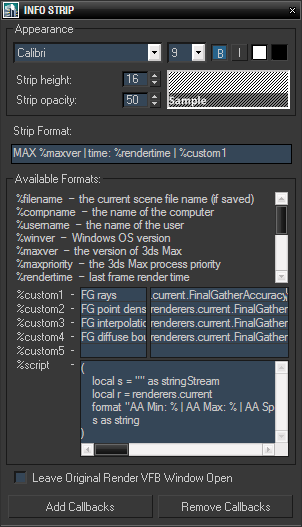 It allows custom information to be displayed in the rendered image, with user defined font size, style, colors and opacity of the strip background. In addition to predefined keywords, there are five custom expressions and one script value. Original render frame buffer can either be closed or kept open. The settings and callbacks are saved in the .max files.
Installation: The .ms file can be run from any location (Maxscript -> Run Script...), if you want to put it in toolbar, menu or quadmenu, place the .ms file to Scripts folder, download the file infostrip.mcr and either drop it in viewport or run it once (NOTE: If you're using the .mcr file, the downloaded .ms file name has to be just info_strip.ms, no _0, _1 or anything else at the end). In Customize dialog you will then find the script in category Advanced.
Additional Info:
Example of the resulting information strip:

Tutorial: creativescratchpad.blogspot.com/2011/07/render-info-strip-customization.html
Version Requirement:
3ds Max 9, VIZ 2008