Proxy Manipulator
Date Updated::
12/03/2009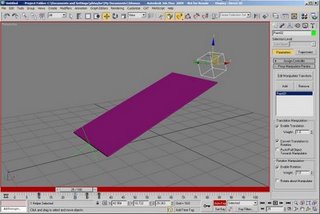 I had this idea for a simple controller that would filter manipulations and pass them on to other objects. It is based on the 'Gizmo Transform' controller that comes with CAT, but this one is a lot more sophisticated, and can do a few more tricks.
Proxy Manipulator.
The idea is basically that often you want to easily manipulate one, or a group of objects quickly and easily. The proxy manipulator enables you to set up configurations where you can manipulate one object, which passes on those manipulations to target objects, which in turn get keyframed. In the video I show a couple of different configurations of how you can use the controller, but I am sure for an imaginative TD, there are loads of cases.
-------
I did a bit of an update to the ProxyManipulator.
One of the key goals was to set up a nice fast foot pivot system that didn't require any fancy controllers actually installed on the foot object. One of the weaknesses, is that although possible to manipulate an object in a perfect arc, the created keyframes will be linearly interpollated. I have added an option to create several keyframes on the time line at ouce, to create a better arc. If you wanted an object to move in a perfect circle, you just turn this value right up.
Thanks
Phl
Version Requirement:
3dsmax 9, 3dsmax 2008, 3dsmax 2009