Convert Vrimg to Exr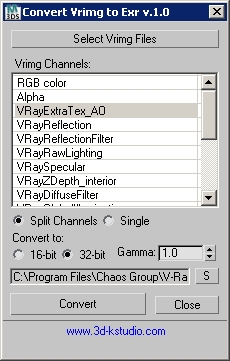 This script allows you to convert Vrimg files to EXR .
It is possible to convert the files into one EXR file with all channels or only selected channels to different EXR files.
Additional Info:
Included to Trackscripts pack.
The idea and sponsorship by Alexey Dorohov (Saetar).
For script work in 3dsmax 9Sp2 please install the free plugin Avguard MAXScript Extension Package.
Version Requirement:
3dsmax 9Sp2 and above
Other Software Required:
Vray