Copy Paste DWG
.
New - Dropdown list with default group names
New - S button - Import Settings anytime
New - Create Selection Set
New - A button - Automatic Paste
New - Auto Paste on start
.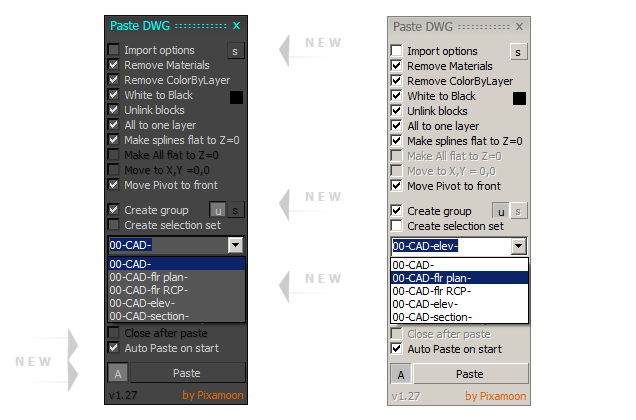 This is another simple script to speed up some everyday modeling work....
Just to simply Copy Paste selected from AutoCAD or DraftSight to 3ds MAX
It copy only selected, so its easy to split dwg to separate objects (elev from plans etc)
____________________________________________________________________________________________
How to do it:
- select drawing in Autocad (best if you clean it first of course :)
- press Ctrl-C (as always copy drawings in Autocad or DraftSight)
- go to 3ds Max
- run script (drag and drop or choose from scripts menu)
- done
How it works ?
It just reads AutoCAD or DraftSight clipboard and import it to MAX
To switch between AutoCAD and DraftSight press AutoCAD button
____________________________________________________________________________________________
Full version v1.26

- New - "S" button - Import Settings anytime
- New - Create Selection Set
- "A" button - Automatic Paste - on/off - all what is copied Ctrl+C in Cad will be paste automatically
(no need to jump beetween Max and Cad)
- move Pivot to front (buttom of flat elevation)
- automatically switch between AutoCAD and DraftSight
- new method to find latest DWG clipboard
- new "u" check button - make group name unique + right click "u" -> make uniqe group names on paste
- classic import options (scale etc)
- remove materials from imported
- remove ColorByLayers
- white wirecolor to black
- unlink blocks - unlink parent / children relationship
- move all pasted objects to one layer
- delete pasted empty layers
- make all splines flat to z = 0
- group imported objects
- zoom to pasted
- select pasted objects
- installation package with toolbar icon and shortcut
- save default paste settings
- save dialog position
- press Enter for quick accept
- press Esc to quit

- on / off - close dialog on paste
Coming next :
- 2 versions with and without dialog
- wirecolor button - insted of color picker
- copy paste from newer AutoCAD than 3ds Max
Full version available here:
http://www.pixamoon.com/shop/4587562584/copy-paste-dwg/9910941
____________________________________________________________________________________________
Lite version:
- switch between AutoCAD and DraftSight
- classic import options (scale etc)
- remove materials from imported
- remove ColorByLayers
- white wirecolor to black
- unlink blocks - unlink parent / children relationship
- move all pasted objects to one layer
- delete pasted empty layers
____________________________________________________________________________________________
To install Lite version:
use my other script - > Favorite Scripts:
1. Install Favorite Scripts (drag and drop to max)
2. place on toolbar (customize -> category Pixamoon)
3. run Favorite Scripts
4. settings
5. choose your favorite scripts root folder
6. create "IO" or "Edit folder"
7. copy "CopyPasteDWG" script there
New version of Favorite Script available here:
http://www.scriptspot.com/3ds-max/scripts/favorite-scripts
____________________________________________________________________________________________
Full changelog:
v1.27
- Dropdown list with default group names
v1.26
- "S" button - Import Settings anytime
- Create Selection Set
v1.25
- "A" button - Automatic Paste
- Auto Paste on start - when cheked than saves "A" button to next start
- new icon - works with light and dark scheme


v1.24
- fixed bug - rermove only imported empty layers
v1.23
- move Pivot to front (buttom of flat elevation)
- fixed bug - make splines flat to Z=0
v1.22
- fixed bug with "Close after save"
- new - Make always uniqe group names - right click "U" check button
- fixed activation window
v1.20
- automatically switch between AutoCAD and DraftSight
- fixed bug - old clipboard DWG imported
- new "u" button - make group name unique
- fixed bug - error when after typing group name pressed Paste button
- press Enter for quick accept
v1.11
- new checkbox: Close window after paste (on/off)
- fixed: nothing pasted when - import as "one object"
v1.10
- fixed to work in 3dsMax started as non-Admin
- faster paste method
____________________________________________________________________________________________
Lite changelog:
v1.11
- fixed: nothing pasted when - import as "one object"
v1.10
- save dialog position
v0.28
- fixed to work in 3dsMax started as non-Admin
- faster paste method
v0.27
- move all pasted objects to one layer
- delete pasted empty layers
v0.26
- unlink blocks - unlink parent / children relationship
- all clean options are turn on as default
v0.25:
- switch between AutoCAD and DraftSight
- classic import options (scale etc)
- remove materials from imported
- wirecolor from ColorByLayers
- white wirecolor to black
____________________________________________________________________________________________
Full version available here:
http://www.pixamoon.com/shop/4587562584/copy-paste-dwg/9910941
Lite free version available here:
http://www.turbosquid.com/FullPreview/Index.cfm/ID/927563?referral=pixamoon
____________________________________________________________________________________________
Thanks for bug report by mynewcat
Script is tested now in 2009, 2014, 2015 and all works good :)
I think you may have newer version of AutoCAD than 3dsMax
If you got this error: "Unable to open:.... The error code reported is eNotImplementedYet" ??
- it means AutoCAD version is newer then 3ds Max
____________________________________________________________________________________________
Note:
AutoCAD version has to be older or the same as 3ds MAX version, but please try Lite version and let me know
____________________________________________________________________________________________
Big thanks for testing, great suggestions and promo image to Mustafa Mamdouh !
____________________________________________________________________________________________
Enjoy !
Pixamoon