Favorite Scripts
.
v1.38
New: Recent / History of last picked scripts (only Full version)
.
.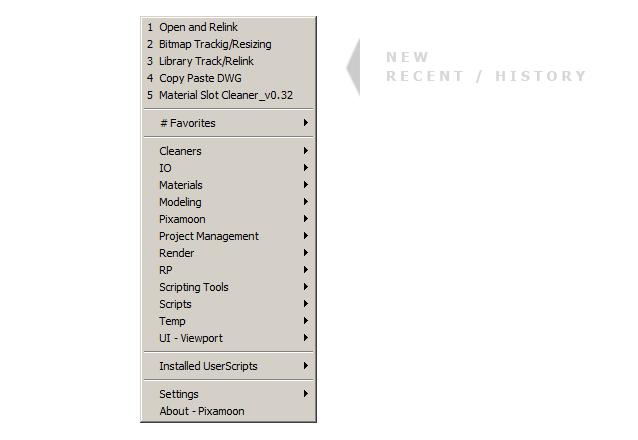 Automatic Scripts Menu for .ms and .mse scripts.
.
From Office Network location, Local or Dropbox ( same scripts on every machine and all max versions )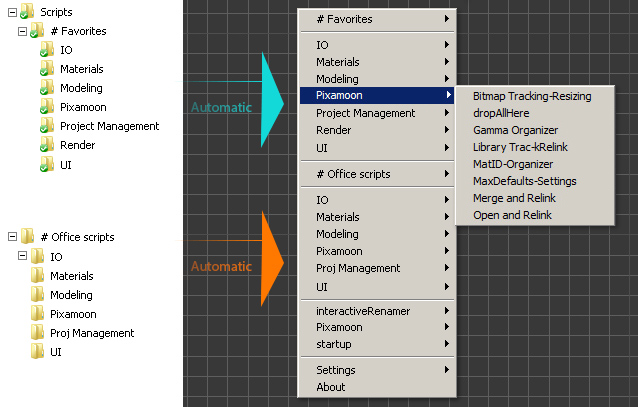 Favorite Scripts is an automatic menu for .ms and .mse scripts
.ms and .mse - scripts which comes without installation packages.
It automatically finds folders (categories) and scripts in specified location.
You just need to select location and sort your scripts to folders(categories) in there. for eg:
Animations
Dynamics
Interface
Misc
Modeling
Project Management
Render
etc.
To Open/Explore folder with script - hold Ctr while choosing script from menu
To edit script - hold Shift
v1.38
- Recent / History of last picked scripts (only Full version)
v1.32
- fixed error - when macroscript name had '...mascoscript' inside
v1.30
- fix - error while loading ini file (v1.28)
v1.28
- support for scripts from Userscripts and 3dsMax Scripts folder
(Settings -> show UserScripts, 3dsMax Scripts)
- fixed: run scripts dotNet error (when subfolders name starts with /T... or /N... )
v1.26
- fixed error if find empty srcipt files
v1.24
- fixed support for subfolders
v1.23
- creates submenus based on subfolders structure
v1.21
- fixed full names in Installed User Scripts
v1.20
- finds all Installed User Scripts and sort them by category ( finds new scripts even without restarting max ! )
- "Explore" path button in Settings Window
v1.18
- fixed finding scripts in main folder
- hold Ctrl while choosing script to open it in folder
- hold Shift while choosing script to edit script
v1.17
- finds scripts in 2 folders
- 1st can be used for office scripts (from server location)
- 2nd for your favorite scripts (eg: in dropbox to have the same anywhere :)
- finds and starts macroscripts
v1.15:
- fixed script sorting
- hold Shift while choosing script to open it in folder
- hold Ctrl while choosing script to open it in folder
Note:
- If folder is empty script doesn't show it
- It works only with scripts (.ms .mse .mcr)
Downloads:
Lite version: www.turbosquid.com/FullPreview/Index.cfm/ID/919694?referral=pixamoon
Full version: www.pixamoon.com/shop/4587562584/favorite-scripts/11228811
Let me know what you think. or if you have more suggestions ?
Pixamoon
Main automatic menu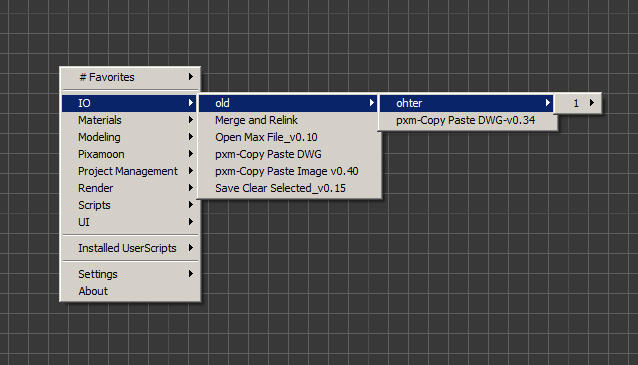 Simple settings: