Light Detictive
Light Detictive is a Tool designed to mange complex lighting setups. --not only control include and exclude by selection or sets fast , but olso investigate the lights on the scene see exclude and include lists , --olso investigate objects which light affect them of not. -- fast Group Lighting specific objects .
support MentalRay and Vray.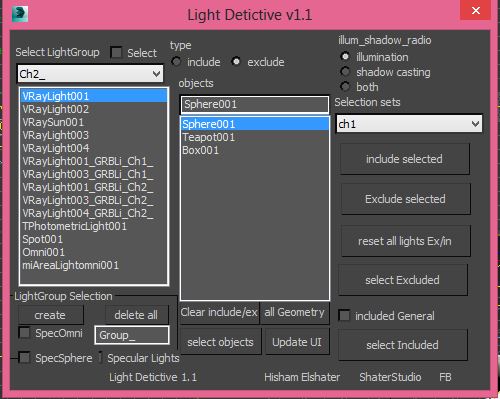 Additional Info:
History:
v1.1 fix issues with vray lights , now supports Vray lights without issues.
How to use it:
-to check objects led by a light just choose the light from the list
-to check an object and which lights affect it 2 ways just select it and then press select included or select excluded
-the other way from the object list just press all geometry button and choose the object select either include or exclude it will show you the lights related to that object
-if you check "included general" it will show you all lights affecting the geometry .
everything else is almost self explanatory.
Version Requirement:
max 9 and above tested on 2014 - MR-Vray