Nuts and Bolts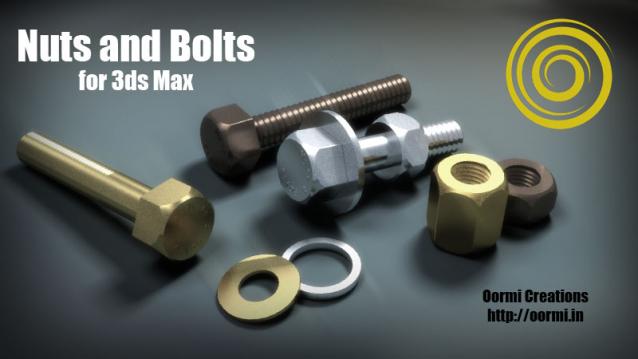 Nuts & Bolts
A new and improved version of Nuts & Bolts is now available for free download. Enjoy !
Additional Info:
Introduction
Nuts & Bolts for Autodesk 3ds Max is a free MaxScript for creating nuts and bolts models. The models are realistic and can be created in a single click.
There are many parameters to get a model of specific look or size.
The script is a freeware and can be used for any commercial or non-commercial purposes. It is provided unencrypted for further mods or improvements.
Feature List
Current version 0.3.0 has these features:
Single click creation of Nuts, Bolts and Washers
Creates a text marking on top of the bolt
Adjustable parameters for diameters, heights, thread pitch/depth etc
Placement at specified position
Can link the nut and washer to the bolt
Can lock some parameters so that the bolts get matching nuts
Live preview model that changes with settings
Assign wirecolors to all parts
System Requirements
Supported versions are Autodesk 3ds Max 2011 to 3ds max 2015. It may or may not run properly in lower and higher versions than these.
Download
The script is attached. Check the help file for more info.
Version Requirement:
3ds Max 2011 to 2015