CheckMate tools by POPA_3D - Turbosquid Contest Winner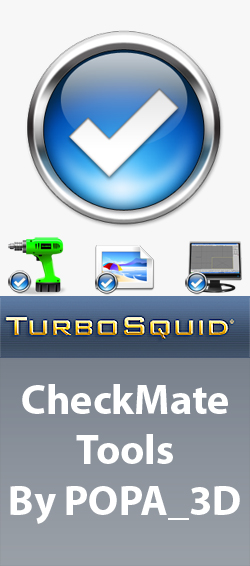 # Script Features:
the script is composed from 4 sub scripts:
Check For Scenes and Objects Problems (flipped faces, Ngons Faces, Overlapping Vertices, Isolated Vertices, scaled objects, overlapping UVs, default Names, Hidden Objects, not grouped Objects, objects without materials, Missings Textures, defaults Materials names).
Batch check Files is supported.
you have the possibility to output checking results to HTML.
Fix several geometry and scene problems (unhide all objects, link all objects to a parent to be able to move them at once, convert Ngons to Quad, remove Isolated Vertices, reset scale)

assign Material to objects without materials.

collect all textures used in the scene put them in the same folder as the 3ds max file, then strip their path so they are relative, it will also clean material editor and remove un used materials.

will render preview, wireframe, turntables,wire turntables and UV Cage thumbnails. you have the possibilty to batch render all cameras view in the scene.
Take screenshots of the viewport(s) of your choice.

# Changes in the version 2.0

- the script is now separated into 4 parts for better organization and workflow.
- convert ngons to quad instead of tris.
-reset scale now use the reset features in the hierarchy panel instead of reset xform wich cause problems for linked and rigged objects.
-you have now the possiblity to check selected objects only check for the error before fix
-more turbosmooth and mesh smooth disable options.
-added texture problems fixer that collect textures, strip paths and clean material editor.
-several options added to the thumbnails render with uv cage render as main addition.
-now include dettailled CHM help files that describe in details all features available and how to use them.
-the installer is much more flexible and easy to use.
-now support more render engines (Scanline, Mental Ray, Vray, Maxwell, Final Render).

take a look at the video created by Turbosquid about main features of the thumbnails render.
Additional Info:
Created Based on Turbosquid Checkmate (TM) Specifications.
please read and accept Turbosquid's Terms of Use.(login on Turbosquid required)
Version Requirement:
9, 2008, 2009 ,2010, 2011, 2012 ,2013 (3ds Max design version not supported)