CleanSpline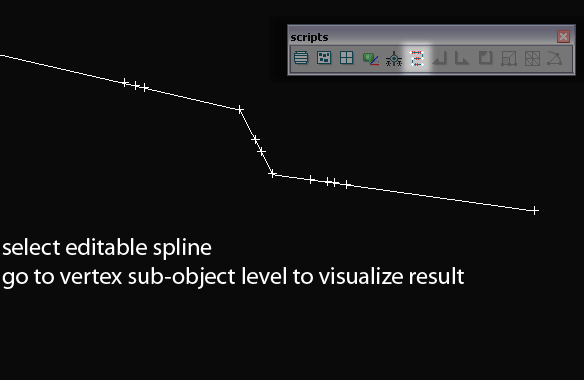 Script deletes vertex based on the angle threshold
HOWTO:
Select spline and execute script via button on the toolbar, shorcut or quadmenu
vertex with angle smaller than or equal to the threshold parameter will become selected.
Press delete to delete selected vertices, press ok to close the dialog box with selected vertices or press cancel to revert to the previous vertex selection.
Additional Info:
Run script from any directory by Macroscript->Run Script command
Place icon bitmap files to the maxroot/UI/Icons folder if you need button images
In Customize dialog find "Sergo Pogosyan" category and "Select and Hide Longest Edge" command
Place this command to the toolbar, menu or quad.
Version Requirement:
3ds max 9.0, 3ds max 8.0