Lock COM Bip
This script is actived to the 'lock COM keying' toggle, including Horizontal, Vertical and Rotation tracks at once in the selection track of the Biped root objects.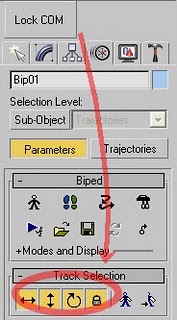 Additional Info:
Usage:
Select the biped objects, go to motion panel then Run macroscript 'Lock COM'.
Installation:
Go to MAXScript>>Run the Script... and select the file, then find it under Customize>>CustomizeUserinterface, Category 'BG tools'.
Click ''Quick Lock COM Biped:...' and Assign into keyboard, toolbars, Quads or menus.
Version Requirement:
max 2009 -2010