Object Library v1.10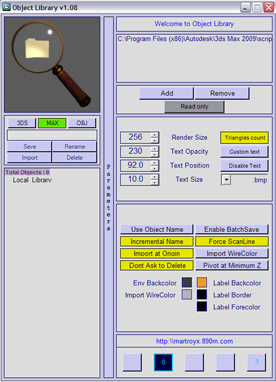 1.08 Fixed startup error. I think this time, it should work :-P
1.08 Added compatibility with 3dsmax 2008.
1.08 Added limited compatibility with 3dsmax 9. This mean, that it may, or may not work :-)
1.08 Added back the preview label.
1.08 label show triangles count instead of face count. no more edit_poly modifier added to the object...
1.08 Custom text show the current maxversion until I figure out where I'll put the other textbox :-P.
1.08 Fixed a bug when overwriting a file and changing the extension ... the old file was not deleted.
1.08 Renderable property is back to normal. Sorry about that, it have been disabled on code export and just forgot to enable the damn thing :-(
1.08 Fixed an error when moving the form. I don't really know what was causing this, so I could not test it, but I think it's gone now !
1.08 Added a ini setting to controls the label border size. 
1.09 Fixed rename with max9 and max2008.
1.10 Fixed some memory issue & some code cleanup. 
Version Requirement:
Max9/2008/2009