MCG FlatLiner
First, I do not even know 100% the requirements of this request. I'm doing it 2nd hand via a post on FB.
The thread on Chaosgroup is here:
http://forums.chaosgroup.com/showthread.php?91733-quot-Get-in-Line!-quot-for-vertexes
I don't have access to read so as said, I rely on 2nd hand pictures and tried my best to interpret...anyway, enough words...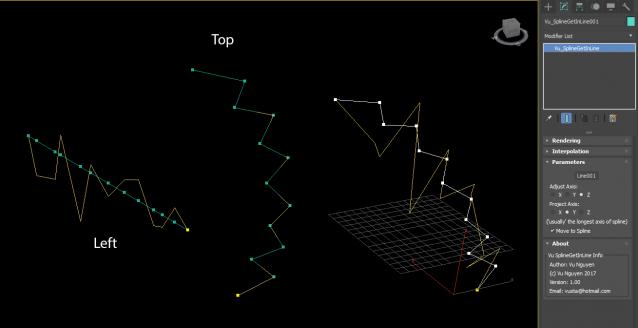 Please note, the pic and video shows SplineGetInLine but so not to clash with existing script I've called mine FlatLiner...so just beware
Notes:
- The Project Axis is usually the longest axis of your spline but it doesn't have to be
- You should never have both Adjust Axis and Project Axis the same, if you do it looks like nothing happened but infact all verts snap to where they already are...it's 2 splines on top of each other.
3ds Max Version Requirement:
2016
Other Requrements:
2016 + Ext1/2 + SP3, 2017