Export layer (incl nested sublayers) as fbx to a specified path with one-click
Hi,
I am exporting a layer (including its nested sublayers) to an fbx-file by overwriting it a hundred times a day.
It´s always too many clicks and I now want a One-Click solution:
1. Define layer (String)
2. Define path (String)
3. Make "Export"-Button
Copy this severeal times (Better would be a Plus and a Delete-Button)
4. "Export all"-Button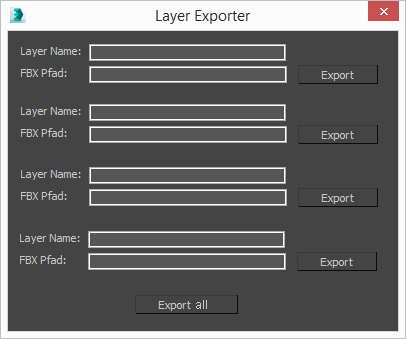 It´s very important that the upcoming FBX-Export dialog is supressed (reminding the last settings) so that it´s a real one-click solution. Surely this helps you a lot but it does not support nested layers.
I can´t write any maxscript-code so I need your complete solution (paid).
Please make me an offer.
Thanks
Carsten