MCG SymmetryRadial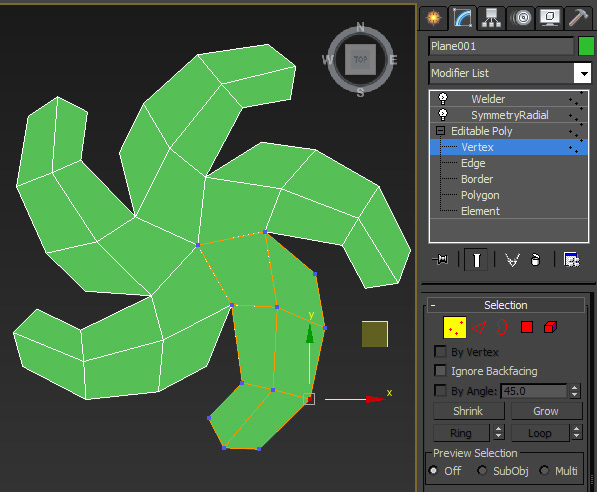 This modifier is to enable you to model with Radial Sym on like in Zbrush.
You can do it with the default ARingClone MCG but I found it unweildy, try it yourself and see. I've taken away the Radius param because I think that is the root of the problem. I've also combined the AWeld MCG into this but as it turns the mesh into tris, I've left it as default OFF and recommend that you put a Welder (Verts!) mod above it instead. I've named this MCG SymmetryRadial so that it conveniently sits just below the normal Symmetry mod. So with the Radius gone, after you've added the the SymmetryRadial, in subobj mode, move all your verts/polys away from centre and you'll be able to see what you're doing. If you can 'ask' Autodesk to change their Weld operator to retain quads rather than turn them into tris that would be great !!!Otherwise, happy ZBrushing..err..I mean Radial modelling.
Don't know if I should incorporate X/Y/Z axis since you just turn your object (not subobj) to ANY angle you want so let's just stick to the KISS principle for now shall we ? Now go do your hubcaps...
Might have to do a video for this one...but tooooooo lazy !!!
Vu
Any small donations to [email protected] would be greatly appreciated. I intend to then fully donate onto the following:
http://www.worldanimalprotection.org/
https://www.worldwildlife.org/
http://www.savethechildren.org.au/
Thankyou.
3ds Max Version Requirement:
2016