MCG Venetian Blind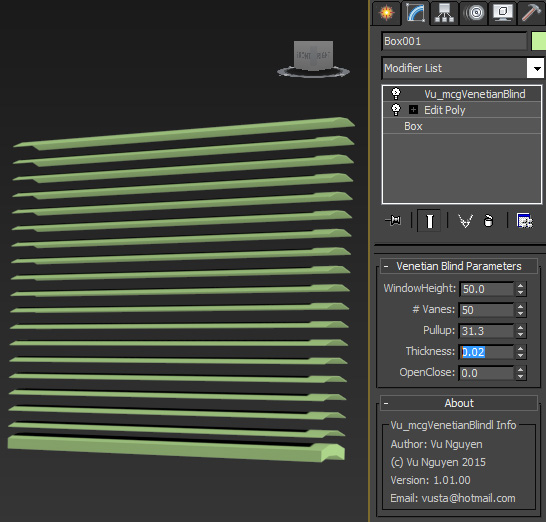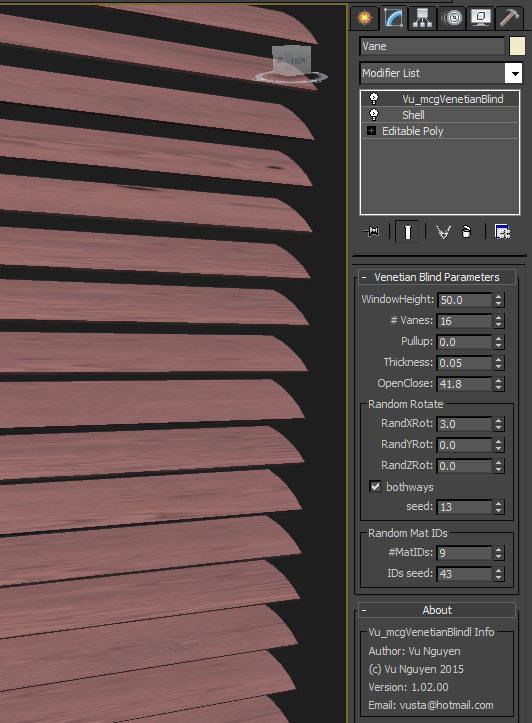 This MCG takes one vane, clone them evenly up to your window height. As you pullup the blind, the vanes move accordingly and naturally you can rotate the vanes to Open/Close positions. Too lazy to get around to doing a video...I think you get the idea.
Ver 1.01.00: now as you pull up the blind, the vanes bunch up correctly at the bottom. The Thickness is not meant to be physically correct, it is a 'tweaker' only. Ideally, it should be the same thickness as your source vane.
Took me days to work this out, did ask for help but...got none...I think it's just me with no idea how to use FB and/or lacking ppl skills...oh well...
Finally, did something on me own...of course, if you want vertical blinds...just turn it 90deg.
Ver 1.01.01: Tidied up comments in graph to help someone studying it.
Ver 1.02.00: Added random MatIDs and random rotations
Vu.
Any small donations to [email protected] would be greatly appreciated. I intend to then fully donate onto the following:
http://www.worldanimalprotection.org/
https://www.worldwildlife.org/
http://www.savethechildren.org.au/
Thankyou.
3ds Max Version Requirement:
2016
Other Requrements:
Shouldn't need MCG Sample Pack I don't think...but doesn't hurt to have it...