MCG Visibility
Control Visibility with a modifier. This way if you create some keys, then come back at some later stage, the modifier stays with the object and you can continue/change the keys...you don't have to find the 'script' that you first used with to create them and drag it back into the viewport.
It works for a selection of objects but I would advise you to be careful with it as it works fine at first but if at some later stage you comeback and select not the same selection...and do some edit, the new keys will apply only to the new selection.
(Strictly speaking, you don't even have to be in 'animate' mode, if you change the modifier Visibility value, it will create a key...but for your sanity...I would highly recommend go into 'animate' mode, then make your changes so that the modifier key values reflect the values in the object Vis track. And yes, even if you disable/delete the modifier, the keys remain on the object Vis track)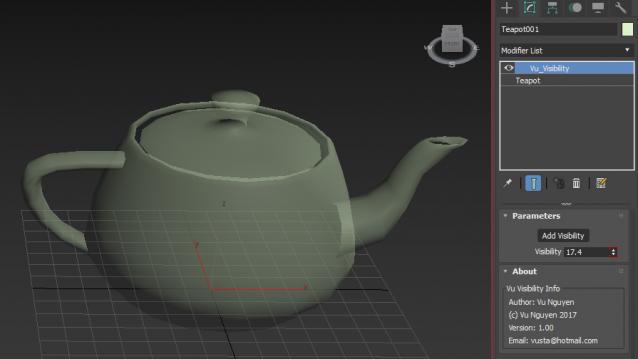 ver 1.01: added option to Sync existing keys to modifier. So if you start from a 'blank canvas', then you'd Add Vis track and start keying. However if you've got an object already containing keys on the Vis track, and now you want to use this modifier on it, then you'd want to Sync Vis to Modifier (eg. Vis 0, 0.5, 1.0 values would be 0, 50.0, 100.0 on the Modifier)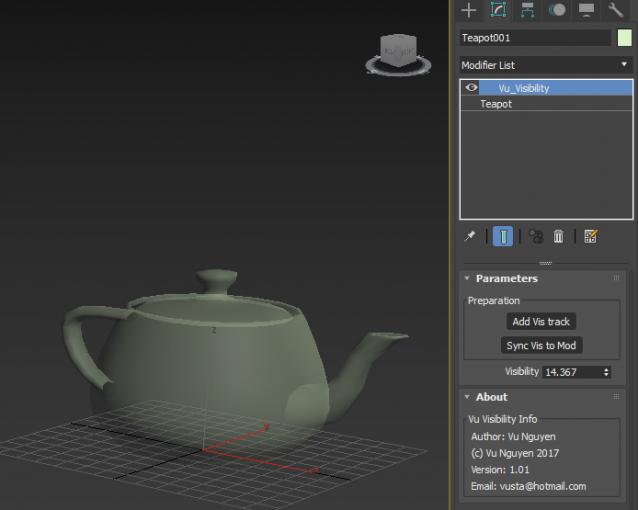 Here's the graph for the MCG haters...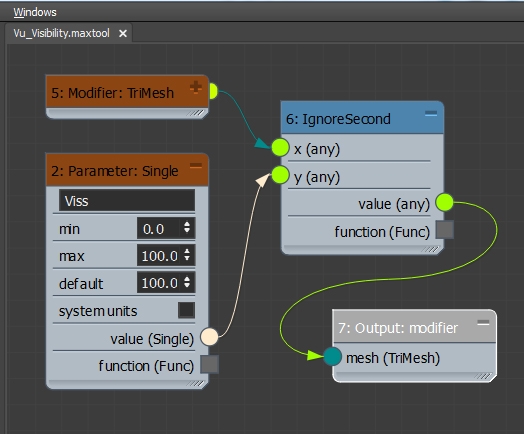 for the REAL MCG haters...I've included a 'maxscript' version...should work with ancient versions of Max. I have no idea about installation procedures....put it in:
C:\Program Files\Autodesk\3ds Max Ancient\stdplugs\stdscripts ? Dunno...
You should then be able to add it from Modifiers dropdown list as Vu_VisMod...
Just to be clear, the MCG is called Vu_Visibility. The mxs is called Vu_VisMod...and I'm NOT a mxs expert, I adapted whatever I could for ppl with no access to MCG.
ps: I also did an Invisibility version....but I can't f***ing find it anymore !!!!!!!!! F*** !!!
3ds Max Version Requirement:
2016
Other Requrements:
2017...should also work with fossilised versions of Max