Scatter Modifier (3dsmax MCG)
With the MGH Scatter Modifier, you can easily create beautiful, natural-looking scatter patterns in your 3ds Max scenes. It's like magic for scattering objects around your scene with just a few clicks!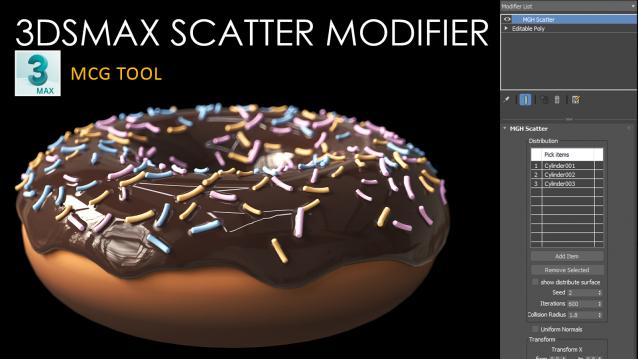 Let me break down its awesome features for you:
1. Seed: Say goodbye to boring, repetitive patterns! The Seed parameter allows you to randomize the scatter arrangement, giving you endless possibilities for your scenes. Each time you change the seed, you get a completely new scatter arrangement, adding life and variety to your scenes.
2. Iteration: Want even more control over the scatter? The Iteration parameter lets you define how many times the scatter process should be repeated, allowing you to fine-tune the density and distribution of your objects.
3. Collision Radius: Avoid the dreaded overlapping objects with the Collision Radius parameter. It ensures that the scattered objects intelligently avoid intersecting with one another, creating a neat and visually pleasing scatter effect.
4. Randomize Transform: Bring life and realism to your scene with the Randomize Transform feature. You can now add a touch of chaos to your scatter by randomizing the position, rotation, and scale of the objects. It's perfect for creating natural environments and realistic scenes.
5. Include Position, Rotation, Scale: Fine-tune your scatter to perfection! The MCG Scatter Modifier lets you choose which transformation properties (position, rotation, scale) you want to include, giving you full creative control over your scattered elements.
Now, I know what you might be thinking - "Hey, there are other scatter tools and plugins out there. What makes this one so special?" Well, my friend, let me tell you that the MGH Scatter Modifier stands out from the crowd for a few key reasons:
- Free: Yep, you heard it right! Unlike some other plugins that come with a hefty price tag, this one is absolutely free! You get all these amazing features without spending a dime. That's quite the steal, don't you think?
- Simple & Handy: Some scatter tools can be complex and overwhelming, but not this one! The MCG Scatter Modifier is designed with simplicity in mind. It's user-friendly and easy to use, making your scattering tasks a breeze.
- Useful: With its powerful features and flexibility, this modifier is a must-have for any 3ds Max artist. Whether you're working on architectural visualizations, natural landscapes, or anything in between.
note: all scattered objects have same material ids according to picked objects but in case your picked objects have multiple material ids the multiple ids not preserved
So, what are you waiting for? Give the MGH Scatter Modifier a try, and prepare to be amazed by how effortlessly you can create stunning scatter effects in 3ds Max. Happy scattering!
for installation go to 3dsmax menu > Scripting> Install Max Creation Graph (.mcg) Package > select MGH Scatter_v0.0.90.mcg file then "MGH scatter" will be available in your modifier list
3ds Max Version Requirement:
2018