FFX Render
This script allows you to split your FFX containers in several passes. You can also add objects in the Matte tab, and they will get the matte/shadow material. It supports up to 10 passes. This script makes changes only at render time.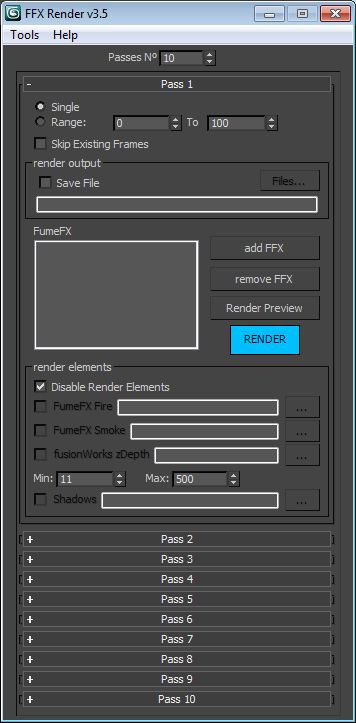 Version 4.0 updates:
-Added "Snapshot before Render" feature.
Version 3.5 updates:
-Added load/save system.
-Fixed minor bugs.
Version 3.0 updates:
-Added the Render Manager tool which allows you to choose which pass to render consecutively.
-Fixed Render Preview alpha problem.
Version 2.5 updates:
-Added a spinner at the top of the GUI, where you can define your passes Nº.
Version 2.0 updates:
-Ability to rename passes
-I removed the tabs, and added the Matte and Rename passes to the Tools menu.
-Changing the renderer didn't work for some passes. It has been fixed.
If you find any bug please report them to the email shown in the Help menu of the script.
Hope you find useful!
Enjoy!
Nahuel