Smart Camera View 2
2.64 UPDATE: auto safe frame, sticky dialog, auto fix broken name function and more.
Amajor upgrade from Smart Camera View 1 (formerly known as D95 Camera View), with many important additional features. This script is intended to replace the default Camera View (C) in 3dsMax with some cool functions. It will save you a lot of time when setting camera, especially in scenes that has multiple cameras with different aspect ratios.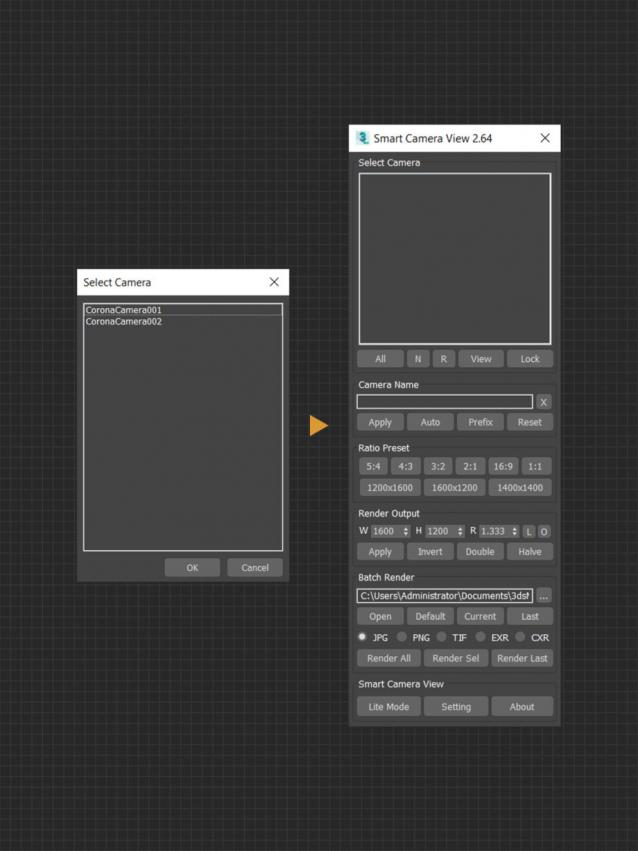 CHANGELOG (LASTED VERSION)
2.64 | 11/10/2021
New "Fix broken camera name" function (run in background): if you don't know yet, the name of the camera when using the script must be set in the format camera_name_string + … + width_value + … +height_value. There are many cases where users accidentally change this format, causing scripts to work abnormally and many functions to fail. So this feature was created to solve that problem. It will notify you which cameras have broken names, and then automatically correct them.
New"For camera only" option for fast select feature: only use 'Fast select mode' when select or switch to a camera. The selection of other objects will not be affected. And Fast select can now also be used in Lite mode.
New "For cameras only" option for "Fast Select Mode": only use "Fast Select Mode" when selecting or switching to a camera. The selection of other objects will not be affected.
New "Auto Safe Frame" function: this feature will automatically turn on safe frame when you work in Camera View, and will automatically turn off when you exit camera view. The "Run in background" option allows you to use this feature even when the script is closed.
New interface for "Output Folder" group. All preset buttons have been removed. The "Apply" button is also removed. From now on, the setting will automatically save when you enter a name for the Output Folder. The input field for the Output folder has also been adjusted to be smaller to avoid confusion with the default path input field. Rename "Add date folder" to "Save rendered images in the current date folder".
New "Sticky setting dialog" function: stick the setting dialog to the main interface while moving script's dialog across the screen. It has an option "Reverse Order" to change the order of the setting dialog and the script's dialog when using the sticky option.
Improved save / load / reset setting function.
Improved install / uninstall function.
Fix button and settings don't load correctly when open the script for the first time.
Fix prefix button make script crash when press too fast.
Now you can right click on the "Current" button (Batch Render group in main interface) to set the "renderoutput" of the current 3dsmax project as the place to save the render.
Add & fix some missing tooltips.
Version Requirement:
3dsMax 2014 or higher