boneStretch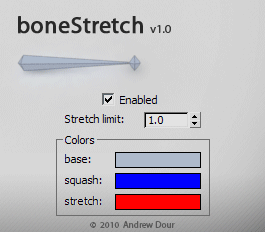 This tool will change the color of bones based on their squash/stretch amount, providing the user with feedback if they have gone beyond a desired threshold. It will live update as you move around and animate in the viewport.
I work with PxlMnky and he asked if I could help him get a little script going to give feedback on how much bones were stretching in his rig. Things got a bit out of hand and boneStretch is the result.

Additional Info:
• Download & Unzip to MAXROOT\Scripts\Startup\ **MUST INSTALL HERE**
• In Max: Utilities Panel > MAXScript > Select "boneStretch" from the 'Utilities' drop down
• Enable and change settings as desired
• Additionally, "Toggle boneStretch" macro can be applied to a Quad, Toolbar, Menu, or Hotkey: Customize > Customize UI > (under "Animation Tools" category)
New in version 1.0.1:
• Dramatically increased performance
• Expanded legacy support; compatible w/ 3ds Max 9 (and possibly older)
version 1.0:
• Stretch limit: The distance at which the bone will be fully colorized to the stretch color
• Enable/Disable toggle macro
• Customizable colors

**thanks to PxlMnky for testing and requesting this tool.
Version Requirement:
3ds Max 9 (or higher)