Controller Manager
A composite floater containing tools for adjusting controller or key settings.
Features include...
Set object axis locks (same as the Hierarchy panel)
Set keyable PRS tracks
Convert controller types or remove constraints
Adjust XYZ Bezier tangent types and TCB tangent types
Settings can apply to multiple selected objects at once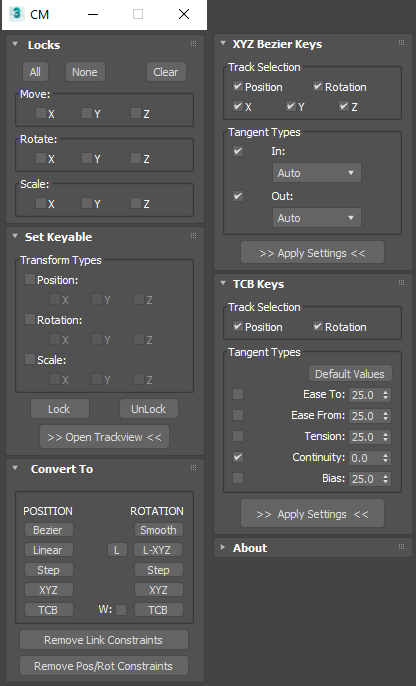 Updates:
Version 1.3;
- Added icon.
- Minor UI layout tweaks.
Version 1.2;
- Email change for help contact.
Version 1.1;
- Recoded script as a struct to minimize global variables.
- Functionality added to remove constraints on selected nodes.
- Added a Step conversion option for position and rotation.
- Added a TCB rotation Windup conversion option.
- Various bug fixes.
Version 1.0;
- First public release.
Additional Info:
The script can be found in category "LB Tools".
Installation:
Drag the MZP file into your Max viewport.
Files will be copied to...
C:\Users\<userName>\AppData\Local\Autodesk\3dsMax\<maxVersion>\ENU\scripts\startup
and...
C:\Users\<userName>\AppData\Local\Autodesk\3dsMax\<maxVersion>\ENU\usericons
Version Requirement:
2010-2020