Reset 3DS Max Windows
–--
A tiny little script to reset 3DS Max "floating" Windows to position 0,0 in upper left when they are gone or out of range.
Just give me a note or comment to add more floaters since i guess i have missed some of them, or just add the line(s)yourself to the script and upload the file again ;o)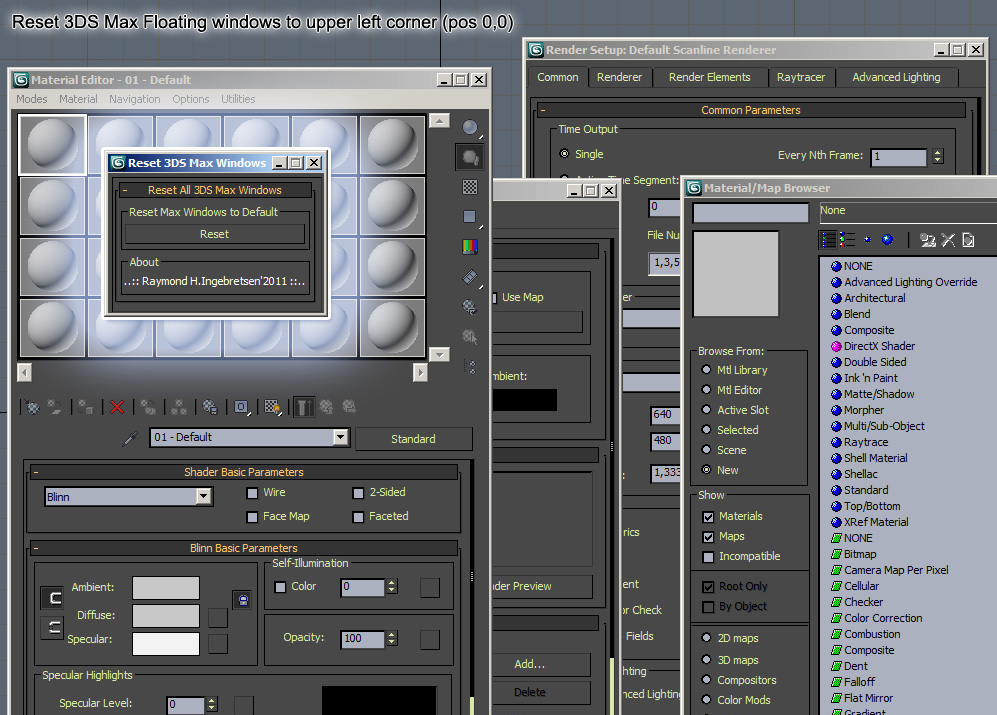 Additional Info: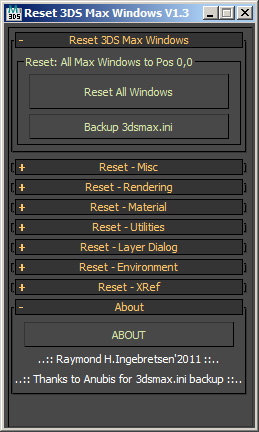 [DESCRIPTION]
Reset 3DS Max Windows V1.3 – Reset All 3DS Max "floating" Windows to position 0,0 upper left when they are gone or out of range.
[INFO]
- Put the files in maxroot\scripts\ (e.g.: C:\3dsmax2012\Scripts\)
- Tested with 3DS Max 2009 <--> 2012
[CREATION INFO]
Last Modified: May 04, 2011
Author: Raymond Homme Ingebretsen
Webpage: http://www.homme3d.com
[NOTE]
Use & modify at you own risk.
[SPECIAL THANKS TO]
Anubis for 3dsmax.ini backup code
Webpage: http://project3d.narod.ru
[History]
V1.0: First version.
V1.1: Added more 3DS Max Floater windows.
V1.2: Added support to reset invidually.
V1.3: Added Backup 3dsmax.ini (By Anubis / http://project3d.narod.ru)