Store & Restore Views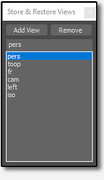 Simple tool for storing and restoring different viewports.
Additional Info:
This tool supports different viewports: orthographic and non-orthographic
Top, Bottom, Front, Back, Left, Right, Orthographic, Perspective, Camera and Light
All data are saved with the *.max file (no external files), so it's very important to save
max scene after you finish adding or deleting viewport presets.
How it works: the process is self-explanatory and there is some tooltips on the buttons.
To restore any view, just use double-click on the list item.
update 1.1 (request for fix by titane357)
- fixed some minor bugs (restoring views after you reopen maxfile)
- now script save last Rollout position on the screen
update 1.2 (request for fix by Juliano Salazar Rocha)
- changed some code: before MAX 2022.1 there was no support to converting string value to point2 value
update 1.3 - code optimizations
update 1.4
- fixed bug reported by rachka
update 1.5 (request for fix by rachka)
- now the list is sorted in ascending order
Version Requirement:
2017.1 +